Description
If you want an original marriage proposal that will leave your partner speechless, excited, and make sure they never forget that moment, then an aerial show marriage proposal is definitely for you. 
And if you're planning a vacation in Spain, take advantage of the opportunity to propose to your partner with an aerial show. We'll travel to any part of the country with the best professionals to make sure everything is perfect for your spectacular proposal. We'll take care of everything!
You can have your proposal in Madrid, Mallorca, a castle, a restaurant, a hotel… wherever you choose, we can make it unforgettable and write your message in the sky. 
In this article, we'll tell you all about this Perfect Plan so you can have a movie-like proposal with just one click to reserve.
We'll take care of everything to make sure you have a successful and original marriage proposal. Your partner will be left speechless! 
The decor for your marriage proposal
The decoration is a great addition that always helps to enjoy and remember the moment for a lifetime. That's why we won't forget about romance and we'll use decorative elements such as rose petals, red balloons, vases with natural flowers, chalkboards, paintings… you can even propose your own decoration!
If your partner is passionate about theater, circus, painting, sculpture or dance, we'll decorate the space according to their passions. Even more memorable!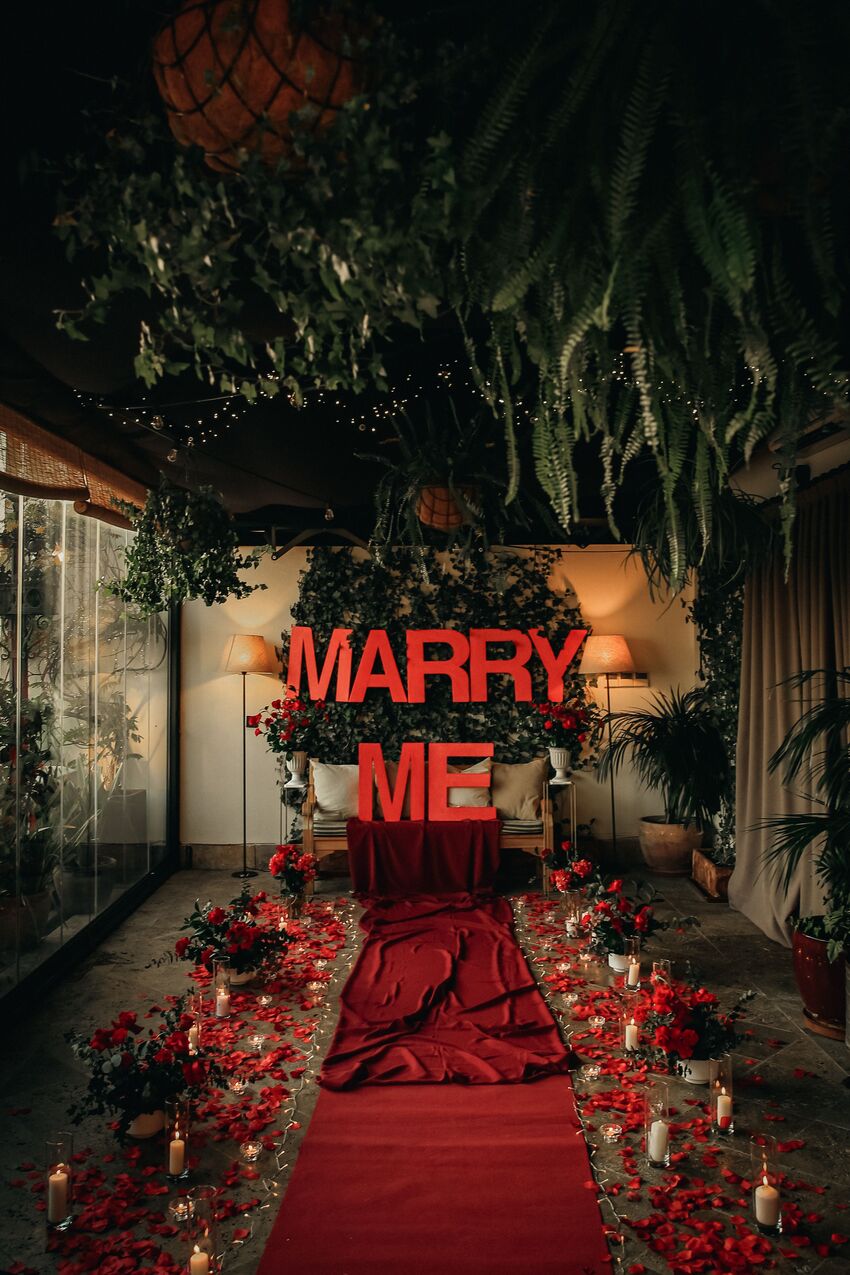 A meal before the big moment
What's a celebration without food? Nothing! That's why before the question that will change your lives, it's time to sit down and enjoy a delicious menu, whether it's in a restaurant, hotel, castle or rooftop. 
You'll start surprising your partner from the moment the dishes arrive, as they taste exquisite flavors and a chef explains the details of each creation.
Enjoy a leisurely post-meal chat, knowing that the chef is creating unique dishes for you to enjoy before getting down on one knee. 
You can also surprise your partner with rich dishes from any cuisine you want: Japanese, Thai, American, Mexican, Chinese, Italian, French… just let us know what specialty you want for the big moment and we'll take care of the rest.
A meal with a view of the sky
Since the show has to be outdoors and during the day to see the aerial show, you can choose to eat with a view of the sky on a terrace, so that the plane can enter the scene without you having to move.
If, on the other hand, you choose to have dinner inside a restaurant, when the meal is over… it's time to take a walk outside.
How about a marriage proposal in a private castle? You can also enjoy your original marriage proposal with an aerial show.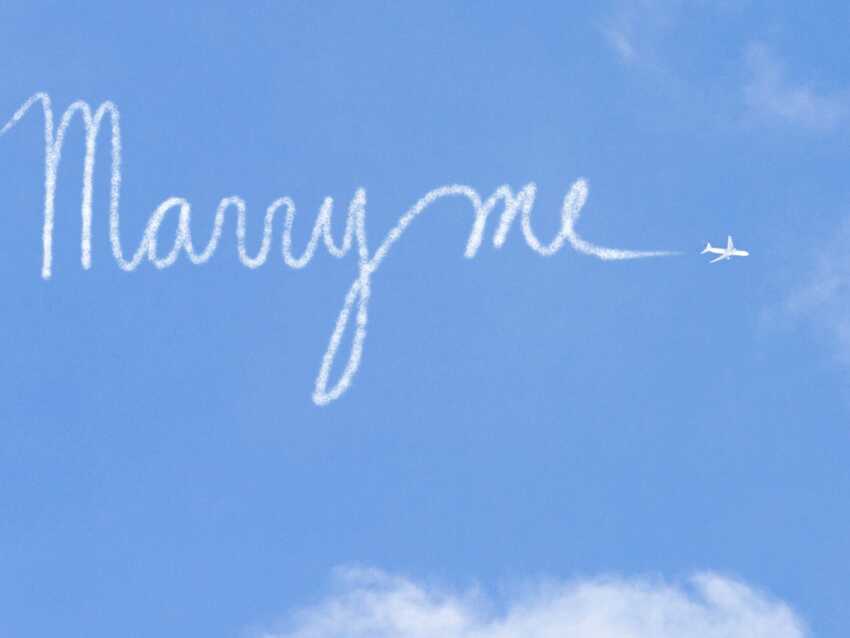 After filling your stomachs… it's time for the airplane!
Once you've finished eating, it's time to pop the question. After dessert, with champagne in hand, the bride will hear a loud, unexpected noise. The sound will grow louder as the airplanes get closer. She won't know what's happening!
Suddenly, airplanes will appear, performing an impressive air show, gliding in the sky while forming the phrase Will you marry me?, a heart, your names or whatever you choose.
You will leave your girl absolutely speechless! Without a doubt, she won't be able to say no.
A bouquet of flowers for the bride
Giving a bouquet of flowers to the bride adds much more romance and magic to the moment, so we will take care of getting the freshest flowers for you to give to the bride during your original marriage proposal with the aerial show.
We will arrange a bouquet filled with daisies, roses, lavender, eucalyptus leaves, sunflowers, lilies, tulips… whatever you can imagine! But, if they are the bride's favorites, even better. So that you can give them to her after the airplane performance and after you've put the ring on her finger!
Photographer and videographer for the moment
To remember the moments lived in your original marriage proposal, we always recommend hiring the service of a professional photographer and videographer to be able to relive your celebration over and over again.
You can't say no to having a reportage of one of the biggest moments of your life!
Also, if you wish, in addition to the images, we can also take care of the lighting and sound, animation…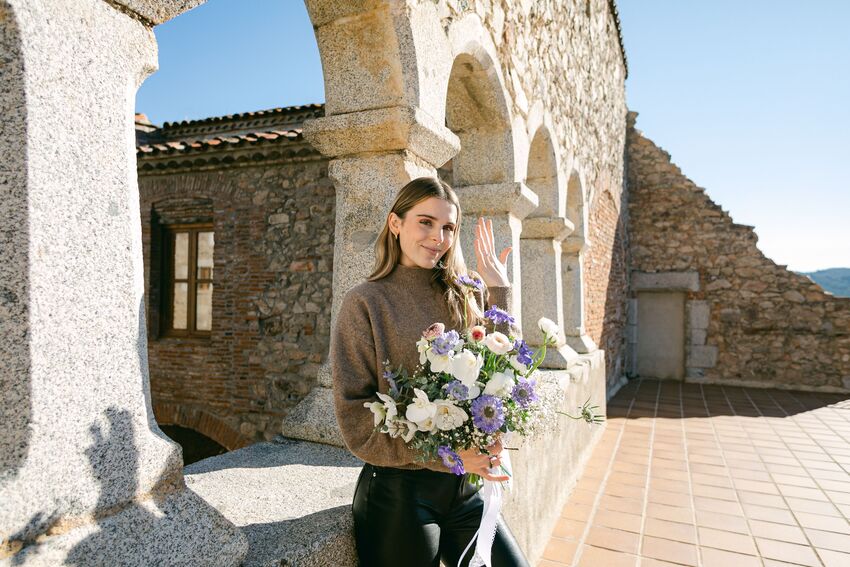 Live Music
What is a special moment without music? Nothing! That's why the violin, guitar, saxophonist or whatever instrument you like can be live to take care of entertaining the evening.
As we all know, there is nothing better than music to stir emotions and make moments unique, memorable and meaningful, especially if it's the music you choose! Surely you have a favorite song…
If you're not sure which songs you want to play, we can give you some ideas: Here is the top 40 best songs for a marriage proposal.
Organization and Coordination
Yes, we like everything to go perfectly, that's why we are part of your original marriage proposal with a show in the air, organizing everything in advance and coordinating everything throughout the day.
We will get everything ready so that the decoration is as you imagine, the plane takes off at the perfect moment, the photographer doesn't miss anything… We are attentive to every detail!
We will prepare everything according to your needs, you just have to ask us for everything that is essential for your day, and your wishes will be our commands!
Price upon request
The price of an original marriage proposal with a show in the air depends on different factors such as the location where it will be held, the date it will be prepared, the number of airplanes you need, and the elements you exactly need to have, such as food, transportation, flower bouquet, etc.
This experience will make you forget about the stress of organizing everything and doing it all without the bride suspecting anything. Very difficult!
We are at your disposal to listen to your dreams and desires and try to offer you your most perfect plan so that all your dreams come true. Contact us at Perfect Venue to get started with your original marriage proposal with a show in the air!
And if this original marriage proposal with a show in the air doesn't convince you, don't miss these other ideas for original marriage proposals: a marriage proposal with a private chef at home, a marriage proposal in a private castle, a marriage proposal in a winery with wine tasting, a marriage proposal with a flashmob, or a marriage proposal in Mallorca.