Gran Canarias Island attracts more than four million tourists every year, but more and more brides and grooms are flocking to the island eager to get engaged amidst its stunning nature, miles of beaches and rich local gastronomy. Yes, an engagement in Gran Canarias is more fashionable than ever!
What's more, Gran Canarias is, without a doubt, a wise choice for getting down on one knee at any time of the year, and that's thanks to a mild climate that allows you to enjoy every season as if it were a permanent holiday.
And what are we here for? Well, precisely to tell you which are the best places on the island for a fairy-tale marriage proposal in Gran Canarias. Everybody, get ready!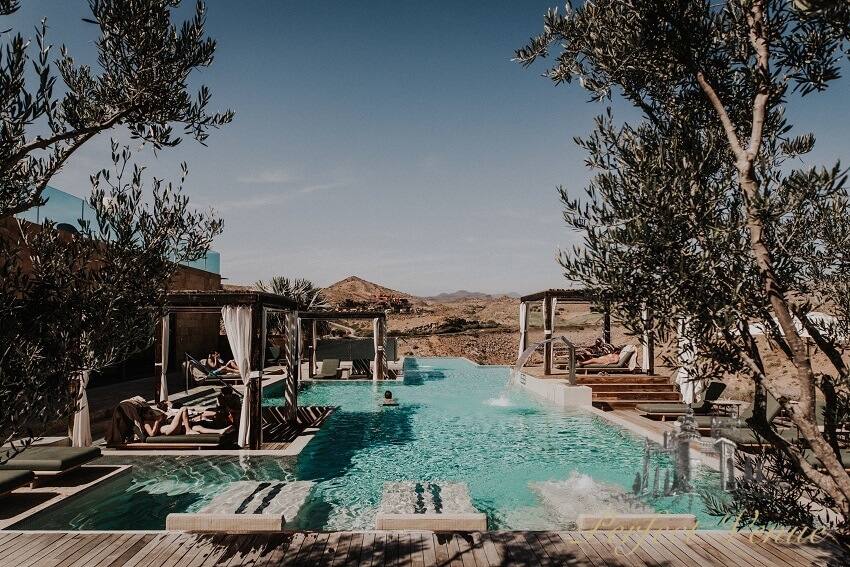 A marriage proposal in Gran Canarias in the sand dunes
If there is one place on the Gran Canarias island that leaves every bride and groom, who are in search of a place for their proposal, speechless, it is the Special Nature Reserve of Las Dunas de Maspalomas.
Here you can see a vast expanse of sand that impresses with its sheer size. The scenery is spectacular because in a few square metres the sand is mixed with the ocean and the beautiful lighthouse of Maspalomas that form the perfect postcard for the romantic engagement.
We love it!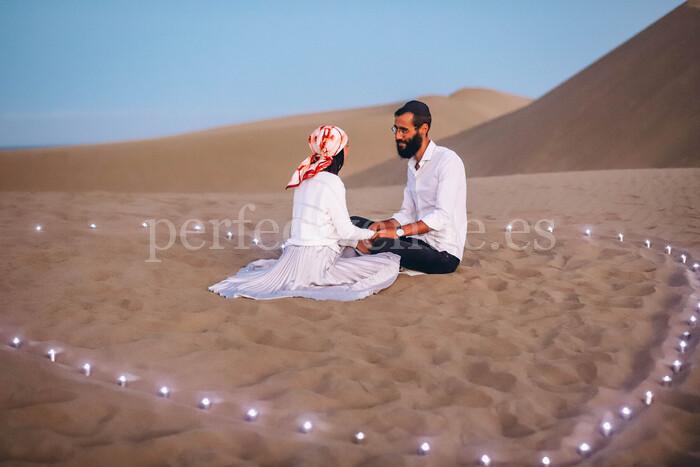 Proposal on the beach of Gran Canarias
Choosing between the beaches of this island to get down on one knee is no easy task. And even more so when we are talking about an island with nearly 100 beaches and natural pools, where divers come from all over the world to dive into its waters!
Its Caribbean waters, its sun and golden sand make beaches one of the favourite places for the bride and groom, and we, who know the island perfectly, know the most romantic, special and charming beaches in Gran Canaria to propose to the bride and groom.
If you want us to tell you which are the best, don't hesitate to contact us, we'll tell you!
Marriage proposal in Gran Canaria in fairytale parks
Canary pine forests, sea cliffs and ravines, trails, animals, viewpoints, cave houses and even hotels and restaurants. Yes, Gran Canaria has parks that are absolute paradises full of beauty and services.
As connoisseurs of this island, and lovers of engagement ceremonies, we definitely recommend taking a knee in one of these oasis-like parks. Its 4 National Parks and 7 Biosphere Reserves mean that it is also considered one of the most valuable ecosystems in the world.
Why not propose in one of them!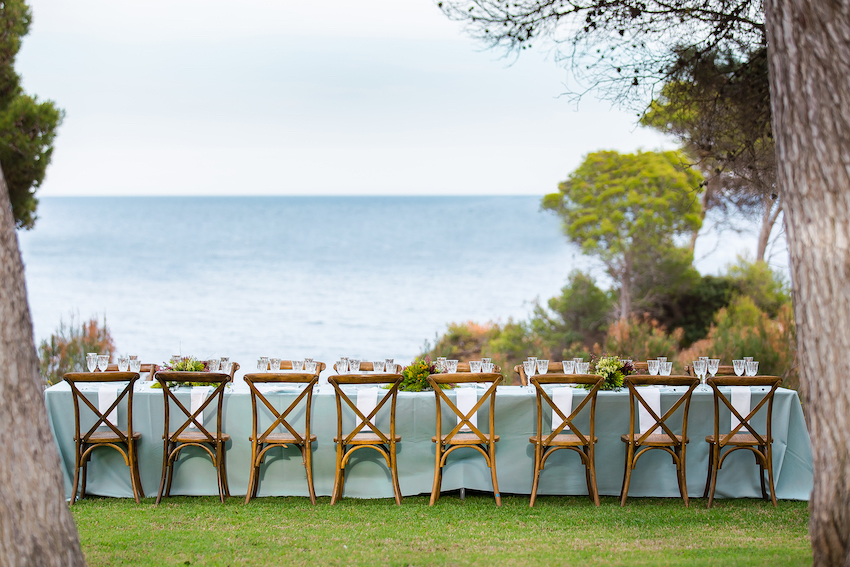 Proposal in Gran Canaria in a breathtaking viewpoint
If there is one thing that is truly amazing about Gran Canaria, it is its views and landscapes. Located on cliffs, hidden, with history, in villages with whitewashed houses, with restaurants, between passages, with statues… Without a doubt, the viewpoints that Gran Canaria has are from another planet.
If you want to know which are the best viewpoints on the island, do not hesitate to contact us so we can tell you all about them.
Marriage proposal in Gran Canaria at Roque Nublo
This is the most identifiable volcanic rock of Gran Canaria. With its 80 metres high, this mass rises 1.813 metres above sea level. Its origin is due to one of the volcanic eruptions that forged the archipelago millions of years ago. The most curious thing about Roque Nublo is its connection with a sacred place, a place of worship for the ancient aborigines. So there is nothing like shouting "I do" from the top.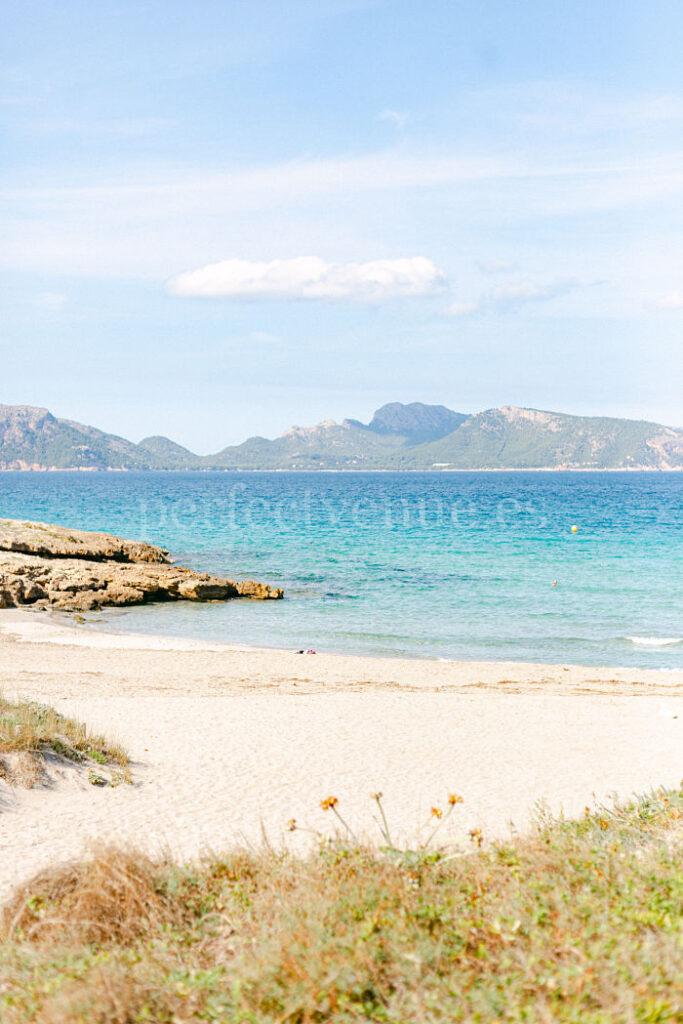 Proposals in Gran Canaria in 5 star hotels
On the island there are different hotels to propose surrounded by luxury, glamour, class, and a lot of exclusive services.
Yes, in Gran Canaria you will find hotels with beautiful exotic gardens, infinity pools, trendy restaurants, private terraces with views, elegant suites, access to the beach, natural pools, Roman baths, panoramic views of the Teide… and much more!
The best thing is that we know the most exclusive 5-star hotels on the island for unforgettable engagement parties, can we tell you which ones they are? Contact us!
Do you already know which one to choose? If you are still not sure, don't miss our directory in Perfect Plan and take a look at all the places we have for a marriage proposal in Gran Canaria, will you know which one to choose?
Call us or write to us at Perfect Venue! We will start right away with the preparations for your proposal, tell us all the details of how you want it to be!