If for some reason anyone has ever thought that weddings can be a bit boring at some point, it's probably because they haven't seen this amazing wedding in Marbella, in an exclusive and luxurious resort villa.
The wedding we present to you today was a unique and unforgettable experience for both the bride and groom and their guests, Halyna and Arnold's wedding was amazingly entertaining!
Live music, crazy performances, entertainment for children, magic games, live painting, caricatures, singers… You can't imagine what this wedding was like! We assure you that after reading it all, you will want one just like it.
Make yourself comfortable, the show is about to start!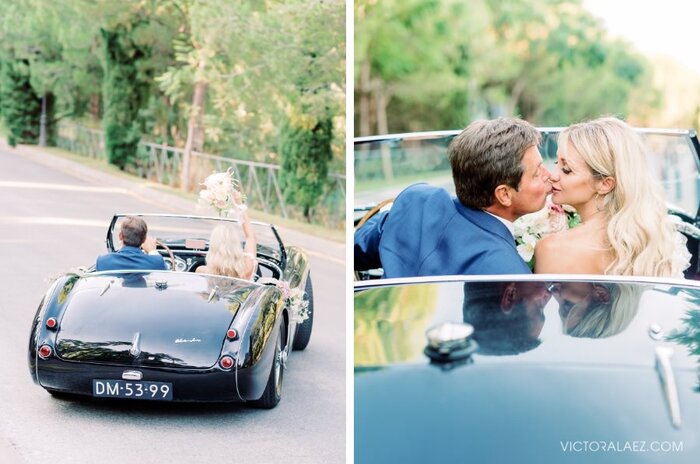 "I do" in Marbella
Halyna and Arnold got married in picturesque surroundings in Andalusia, between Marbella, Benahavis and Estepona in southern Spain. The venue was the Anantara Villa Padierna Palace Resort.
The bride and groom were able to get married in an elegant sanctuary surrounded by three golf courses, a tranquil lake, a Roman amphitheatre and over 1200 original works of art. Beautiful!
They decided to make their wedding vows in front of all their guests in the amphitheatre of the venue, surrounded by art and manicured gardens.
Sweet little Michelle was in charge of the ring bearer, what a great moment!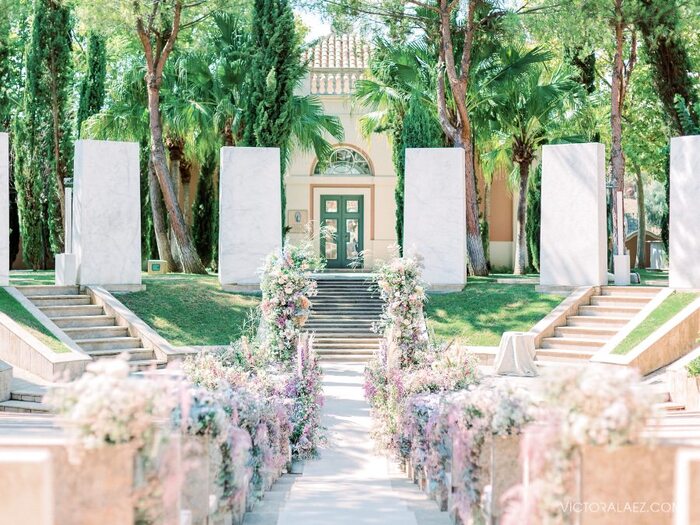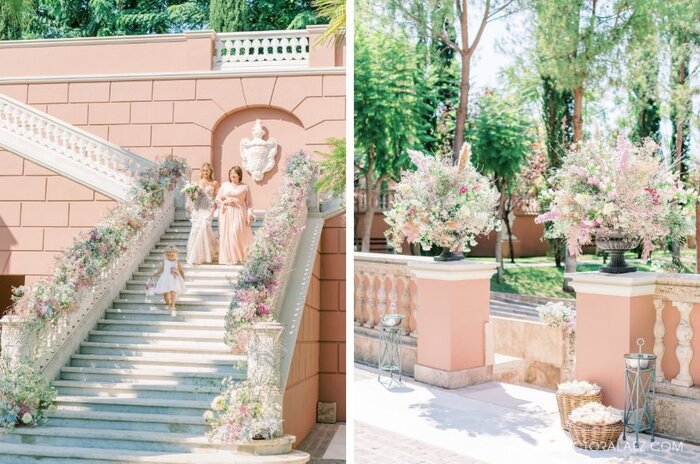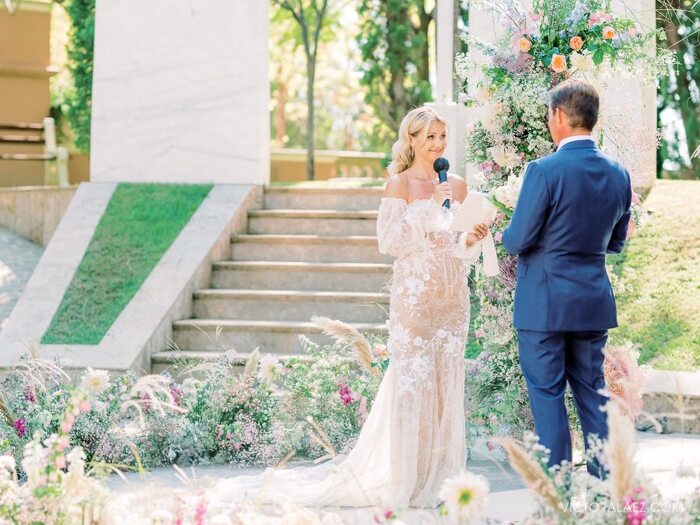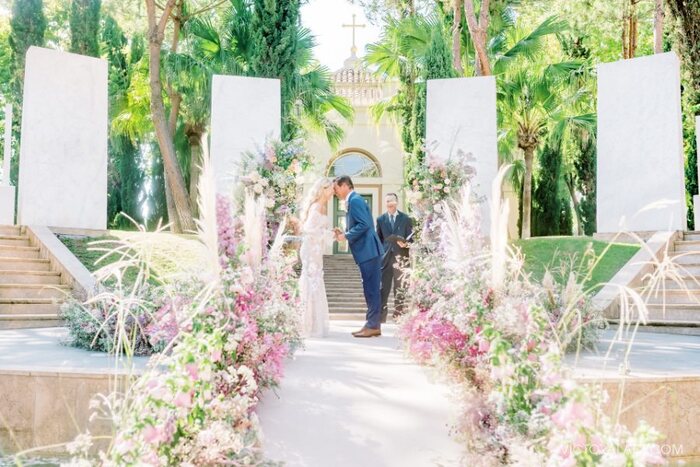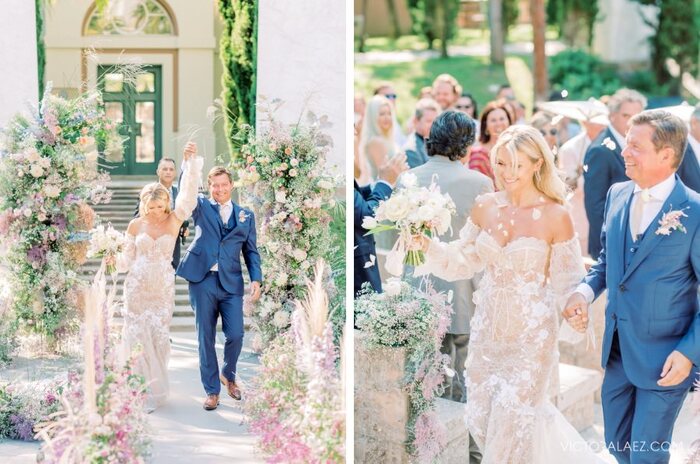 Sophisticated decoration
The main colours for this wedding in Marbella were pinks, lilacs, light blues and whites. So soft and beautiful.
These colours reigned in the floral centrepieces, in the bride's bouquet, in the bridesmaids… even in the impressive set-up prepared for the outdoor dinner, highlighting a cloud of almond blossoms and greenery on the bridal table.
The table settings were chic and charming, with gold chairs, white tablecloths, clear plates with gold rims, matching glasses and floral centrepieces.
All the corners were decorated by Unique by Roberto Silvosa.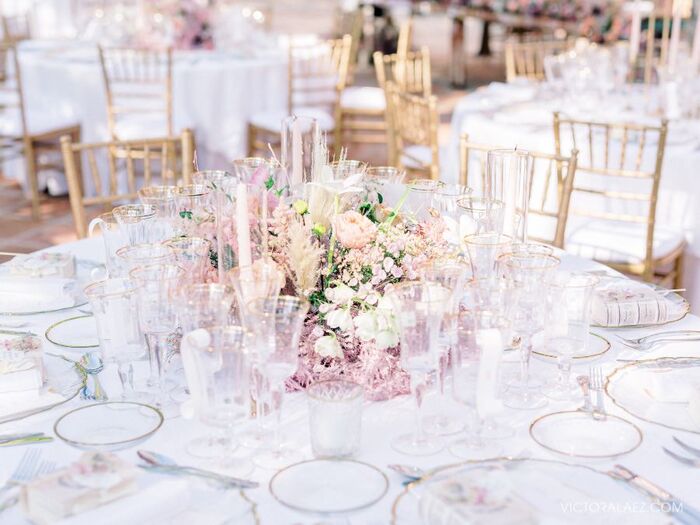 A real fantasy show
Nuart Events took all the attention of the guests with their multiple numbers full of imagination and perfect choreographies. It was one of our favourite parts of this wedding in Marbella.
The bride and groom had the guests transported into a world of fantasy, from the first appearance where a strange puppeteer on stilts led some cute puppets offering champagne and refreshments to the guests, to the feather show revealing the big wedding cake. Flawless!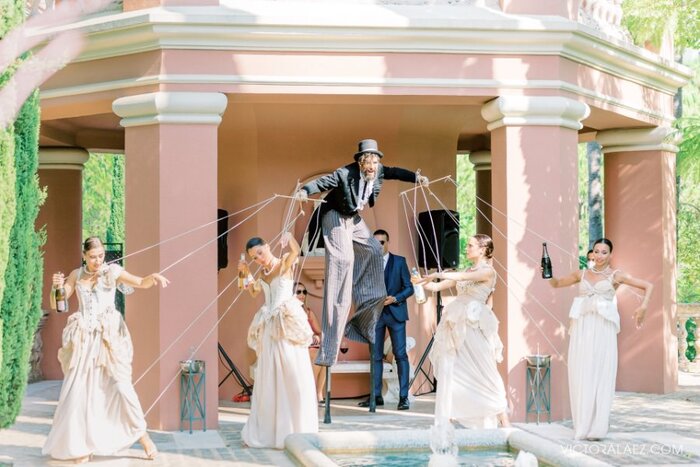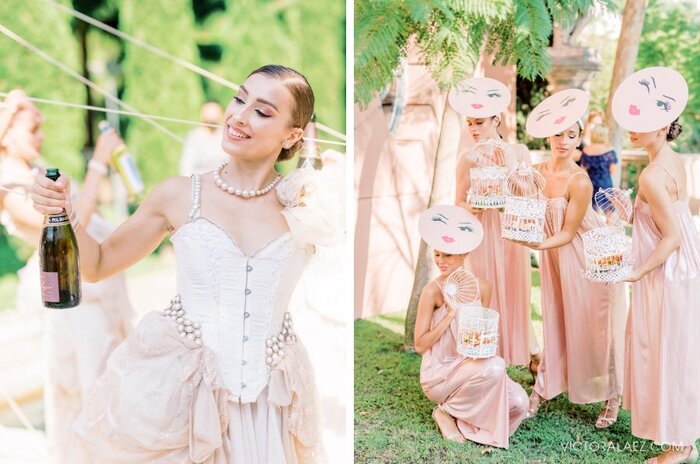 A wedding with live painting
Edoardo Nardin added an artistic and colourful touch to this original wedding, with a canvas in the shape of a dress. Yes, as you read it!
All the attendees were spellbound as they watched how the artist painted the violinist's dress forming a beautiful landscape.
Live painting creates a lot of curiosity, entertains in a discreet, fun and original way. In addition to being an absolutely original work, live painting is capable of capturing all eyes and making sure that no one will ever forget this wedding.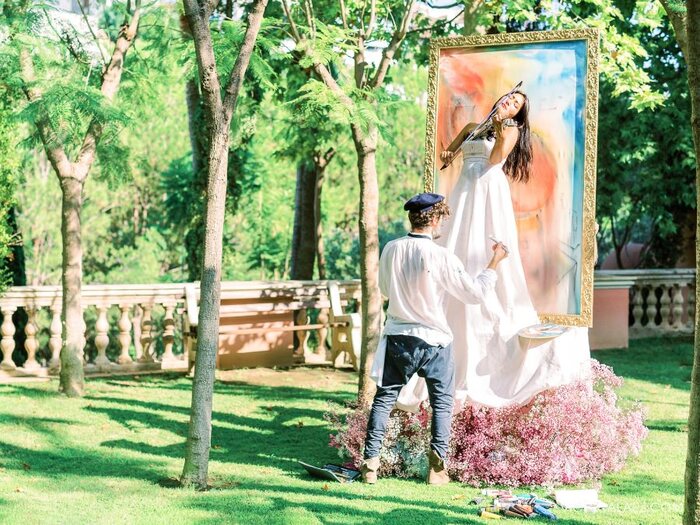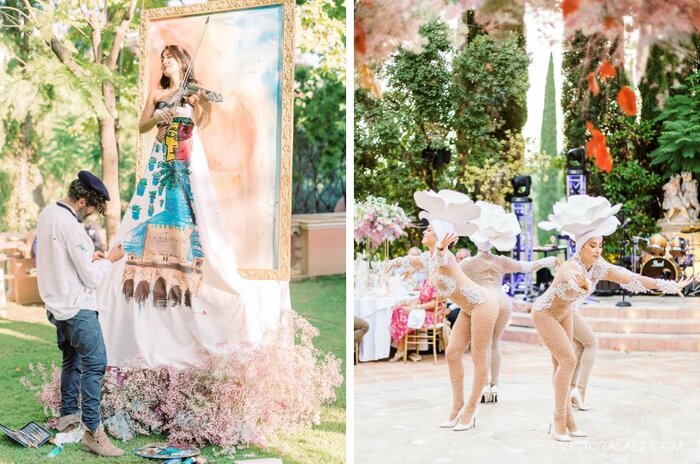 Excitement with live music
How does a special moment go by without music? Absolutely no way! That's why the bride and groom hired live music for their big day.
The saxophonist Juan Viera was in charge of providing the soundtrack to the wedding to make the evening joyful, unique and memorable. The Legend Aliens was the band that gave the event a special atmosphere.
And then there was Lamaya Violinista! She did not stop playing the violin while her dress was filling with colour.
And, as we all know, there is nothing better than music to enliven emotions and create a magical atmosphere at a wedding. 
A glamorous outfit
Halyna chose for her wedding in Marbella a dress by Berta Privée, the model 20-P105. This was a fitted mermaid dress with floral embroidery, the upper part was a corset with an open back and transparencies that revealed the whales of the corset.
But there was also a second dress! It was a drees from the company Pronovias with feathers and rhinestones for a romantic and festive combination. The second beautiful dress was short, with a V-neckline and transparent French sleeves.
For the shoes she opted for two options, both by Jimmy Choo. For the ceremony and the banquet, she wore the Baily 100 model, a platinum ice-coloured ballroom shoe with glitter powder and a strip of crystals and pearls. For the dance and her second dress, she opted for Sacora 100, a pair of nude suede sandals with crystals and sphere detail.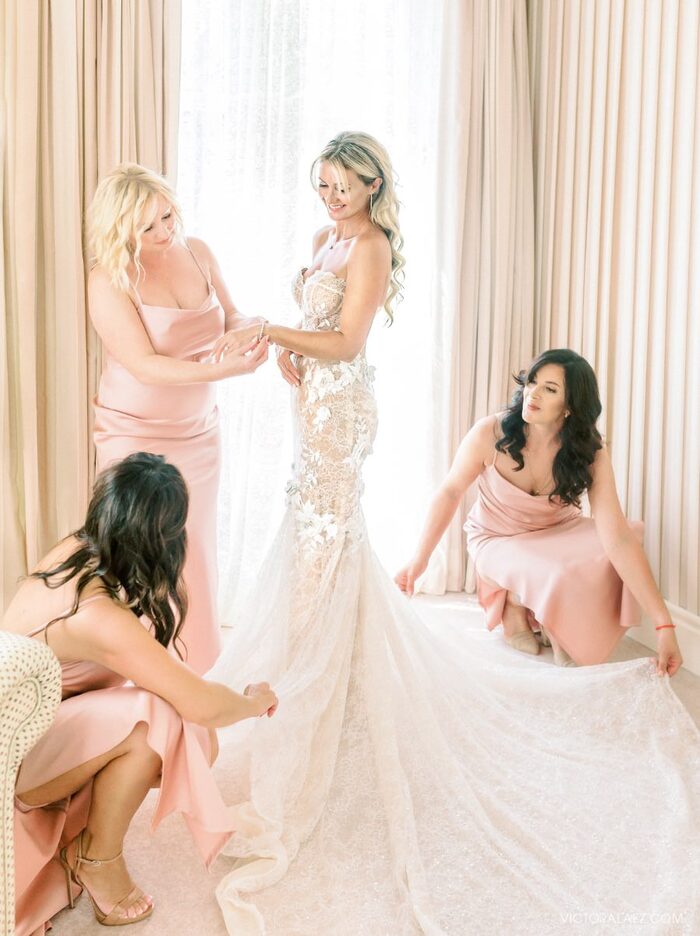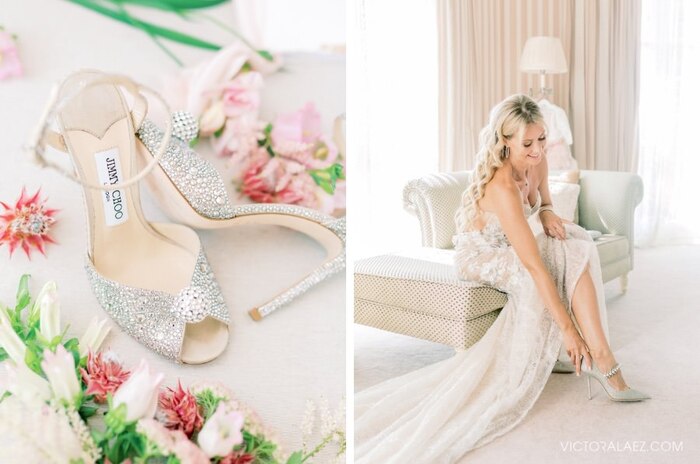 The hairstyle was made by Flavia, the bride was very clear that she only wanted waves to show off her long blonde hair.
Arnold, the groom, wore a navy blue suit jacket with matching waistcoat, white shirt and pink tie to go perfectly with the big day, a real gentleman!
Wedding with children's entertainment
Children are pure energy and joy and their batteries are always charged. But as well as bringing that fun to any event, they are still children and get into mischief, so the best thing is for them to be busy and entertained during a wedding.
That's why Halyna and Arnold set aside a children's corner at the wedding for them, the children and the parents to have a great time. So the parents didn't have to worry about their children disrupting the big day.
They hired company El Baúl de Zoe, who were in charge of setting everything up and had an entertainer dressed as Elsa from Frozen appear on stage, as well as a caricaturist, who had a queue of children ready to decorate their faces.
Fun was guaranteed and the parents had a great time with no worries!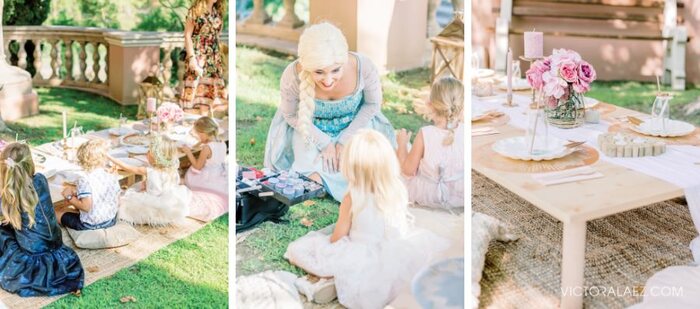 Gifts that were charitable
The newlyweds asked their guests at their wedding in Marbella, instead of giving them wedding gifts, to donate to two of their favourite charities: SOS Aldeas Infantiles in Spain and Princess Maxima Centrum in the Netherlands.
They are a couple who are very conscious of helping others!
Storybook photos and videos
Reece Iverson was the videographer for this wedding and Víctor Aláez was in charge of the photo shoot of the big day, which was accompanied by photographer Kat Marcum, both of them achieving as a result a spectacular video and fairytale photographs.
In addition, they managed to capture all the emotions and all the details of the most important day of Halyna and Arnold's life.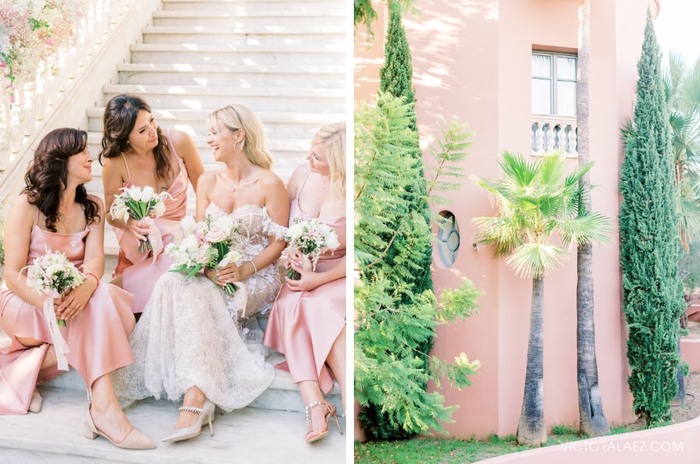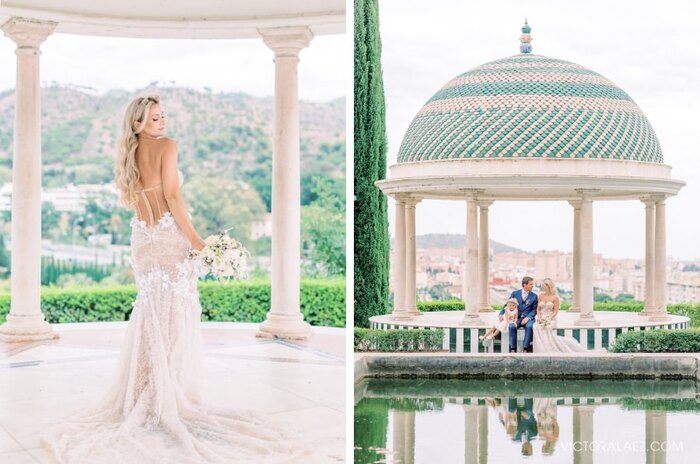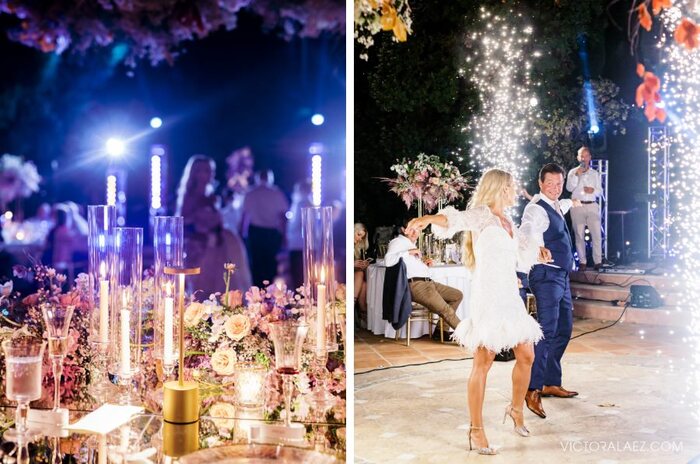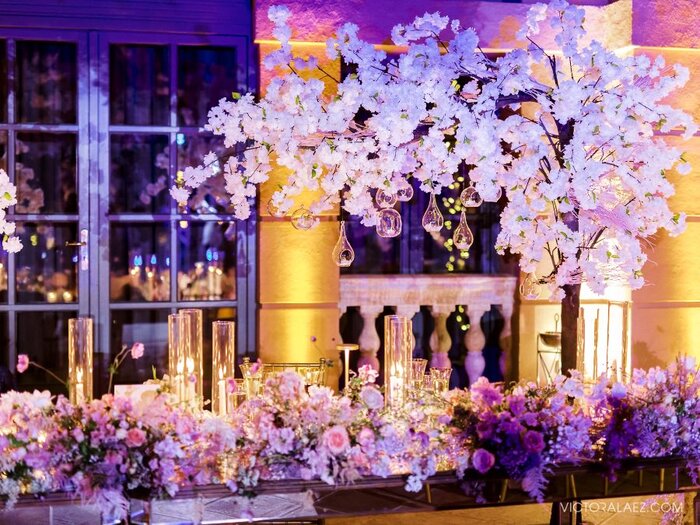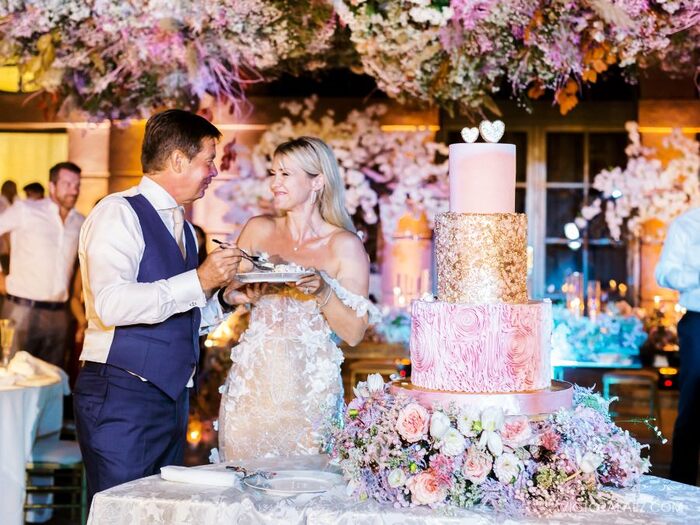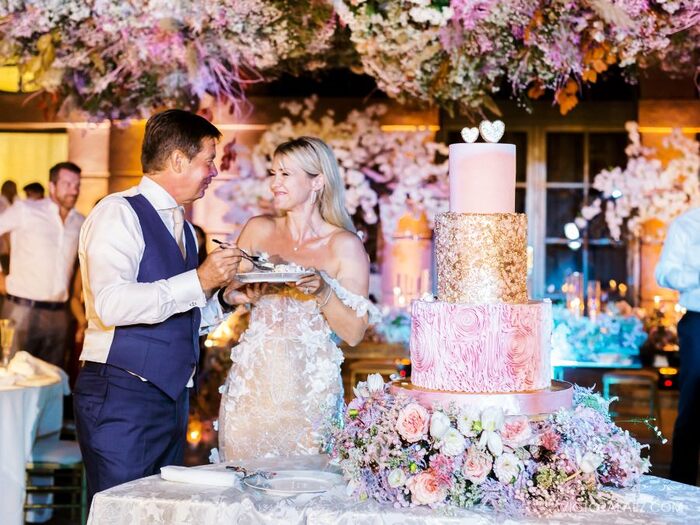 If you also want a wedding in Marbella or a fairytale wedding like this one, at Perfect Venue we can help you, we organise everything for you and you will be more than delighted!
Contact us, we are waiting for you.
Wedding team:
Photographer: Víctor Aláez, Kat Marcum // Wedding venue: Anantara Villa Padierna Palace Resort // Wedding Planner: Tucco Weddings // Decor: Unique by Roberto Silvosa // Artist: Edoardo Nardin // Animation for kids: El Baúl de Zoe // Video: Reece Iverson // Dress: Berta Privée // Second dress: Pronovias // Music: Juan Viera, Lamaya Violinista, The Legend Aliens // Show: Nuart Events