There are couples that know from the beginning that they want a traditional wedding, but there are also many others that change their mind and have an elopement wedding. And this is what happened to this couple, who said "I do" at their elopement wedding at Buen Amor Castle.
They met in 2010 in a library, but it was a year later when a mutual friend invited them to her house and when they got to know each other better, they started dating. Years later, the groom invited his girlfriend to a very exclusive restaurant, and she, who had already sensed that he was going to propose, did not hesitate to say yes!
The couple, both chemists, moved to Saudi Arabia for work, although they were always certain that they were going to marry in Spain.
A traditional wedding that became an elopement
This wedding was organised and reserved more than two years ago, but because of the pandemic they had to postpone it. But, because of the current situation, there was little chance that all their guests could travel from Belarussia to Spain.
For this reason, they decided that they didn't want to keep waiting for the wedding and opted to do an elopement at Buen Amor Castle. 
And, to make sure their big day was remembered forever, they wanted to fill it with lots of activities. Keep reading to find out what this couple did on the day of their wedding!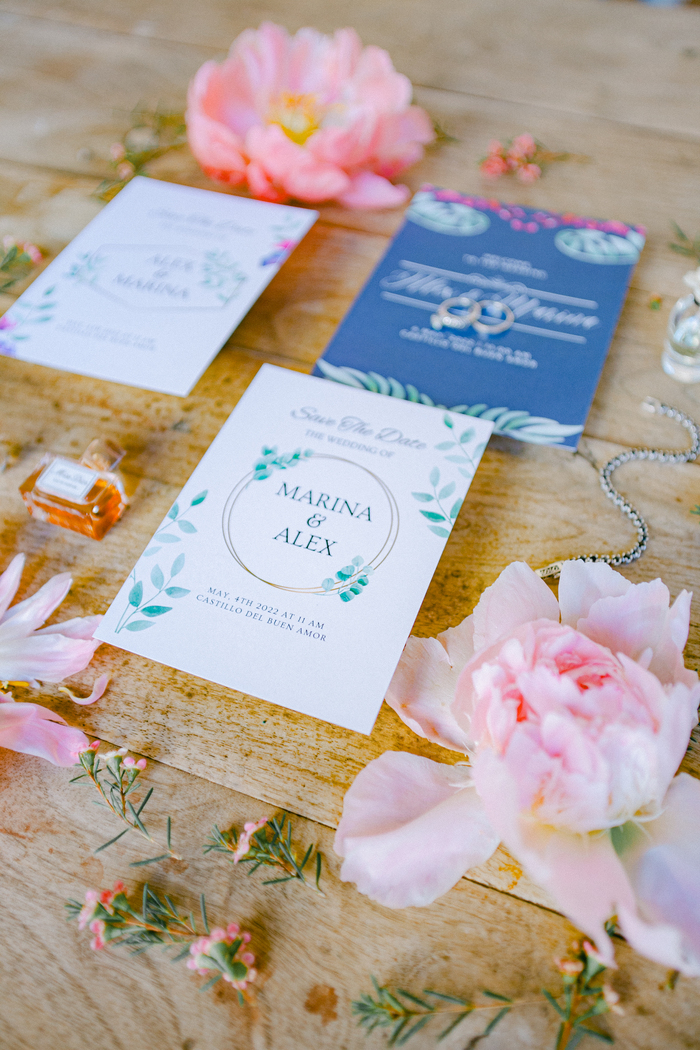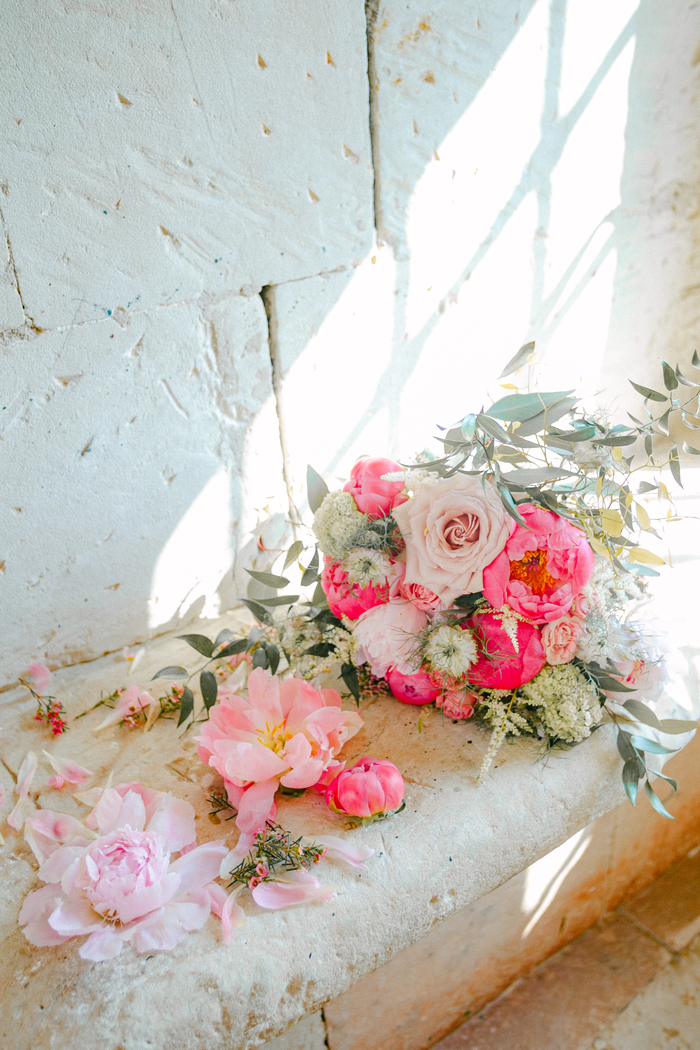 Buen Amor Castle, a venue that the couple fell in love with
The bride and groom had made it clear that they would choose Spain to say "I do", since they had already travelled to our country and they liked the experience so much that they wanted to celebrate their wedding at a historic Spanish venue. And they were sure that they wanted it to be a castle!
So, when they saw Buen Amor Castle two years ago, they booked it straight away, it was love at first sight!
This castle, located in Salamanca, has a fabulous environment with a landscape full of gardens, vineyards, thousands of trees, its own winery, majestic towers… An idyllic venue which the couple couldn't stop taking photos of for the memories!
The couple also walked through the French maze, drank a glass of wine in the Homenaje tower and spent the night in a suite with a private terrace with domed ceilings. This is where they ate dinner on their big night!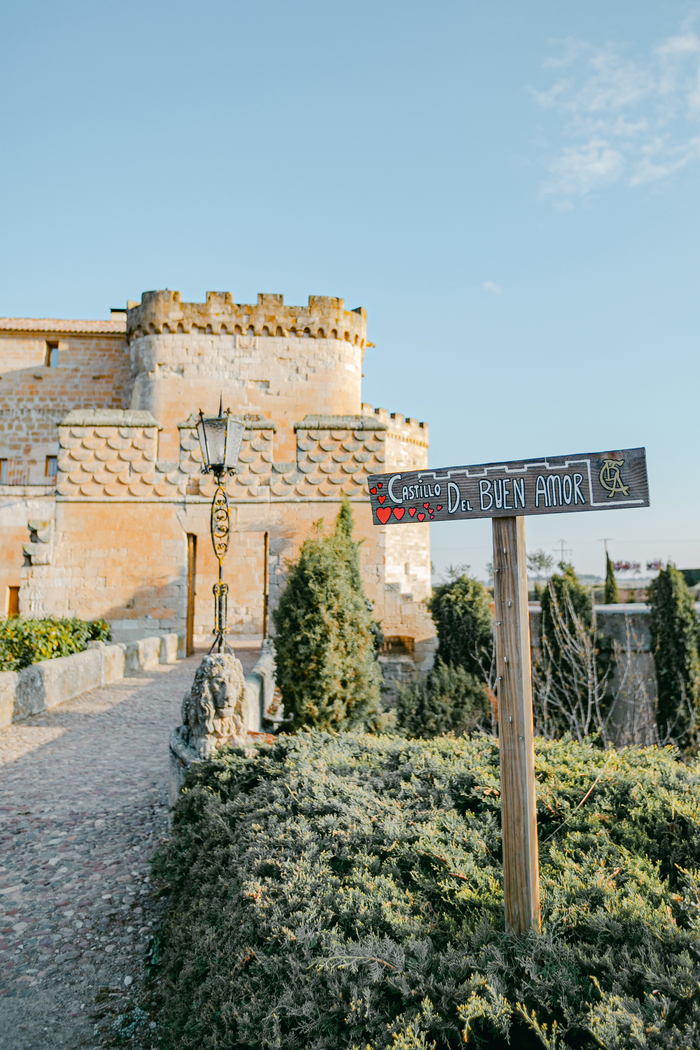 Breakfast with a view and the wife's preparation
The elopement wedding at Buen Amor Castle began in the morning, when the couple waking up received an exclusive breakfast in their beautiful castle suite. 
Afterwards, they began the preparations, where the bride got dressed and got her makeup and hair done. The result: a very natural and simple makeup look and a half-up half-down hairstyle with waves that left her face and her enormous smile in sight. 
The bride's dress and the groom's suit travelled from Saudi Arabia
The bride moved away from the norm, leaving aside the traditional white dress and opting for a blue dress with straps and a corset style, with a train and leaving her back exposed.
The dress was covered in a lot of white tulle that created volume, but the base of the dress was a blue colour, with flowers and embroidered designs.
The groom, for his outfit, wore a beige jacket with blue stripes that formed squares, accompanied with a light blue shirt and a beige tie to match the jacket.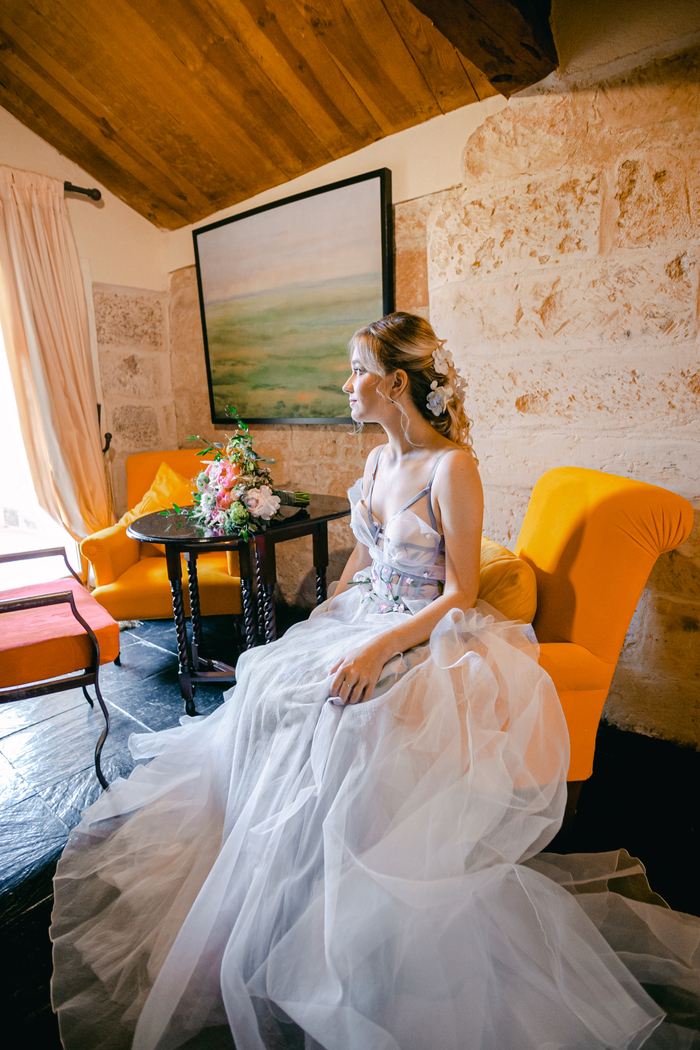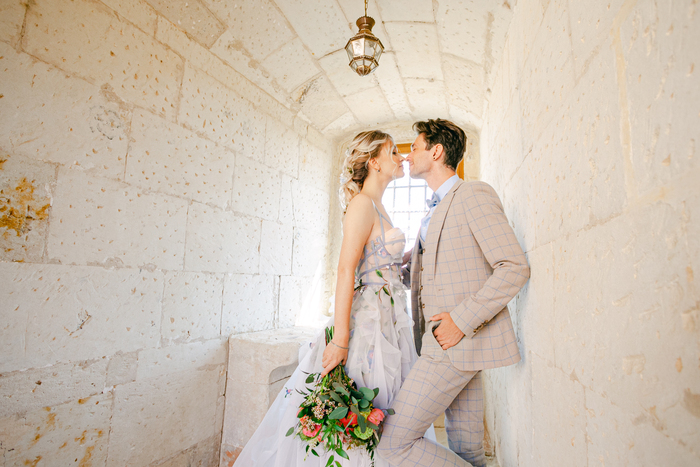 An emotional ceremony outside the castle
At 11 in the morning the ceremony began, and we couldn't have loved the altar any more! It was formed by an iron bandstand, located in the castle's garden, with views of Buen Amor Castle. 
This was decorated with beautiful spring flowers like roses, peonies, carnations and other flowers in pink, purple, lilac, blue, white and green, very colourful and according to the season!
Furthermore, there were lots of green leaves that formed an arch at the entrance to the bandstand. The bride carried a bouquet that matched the flowers and leaves of the arch. 
The ceremony, also prepared by us, was very emotional since we made it very dynamic by asking the couple questions like: why did they opt for Spain? How did they get to know each other?, etc. their feelings were brought to the surface and they loved their ceremony at their elopement wedding at Buen Amor castle!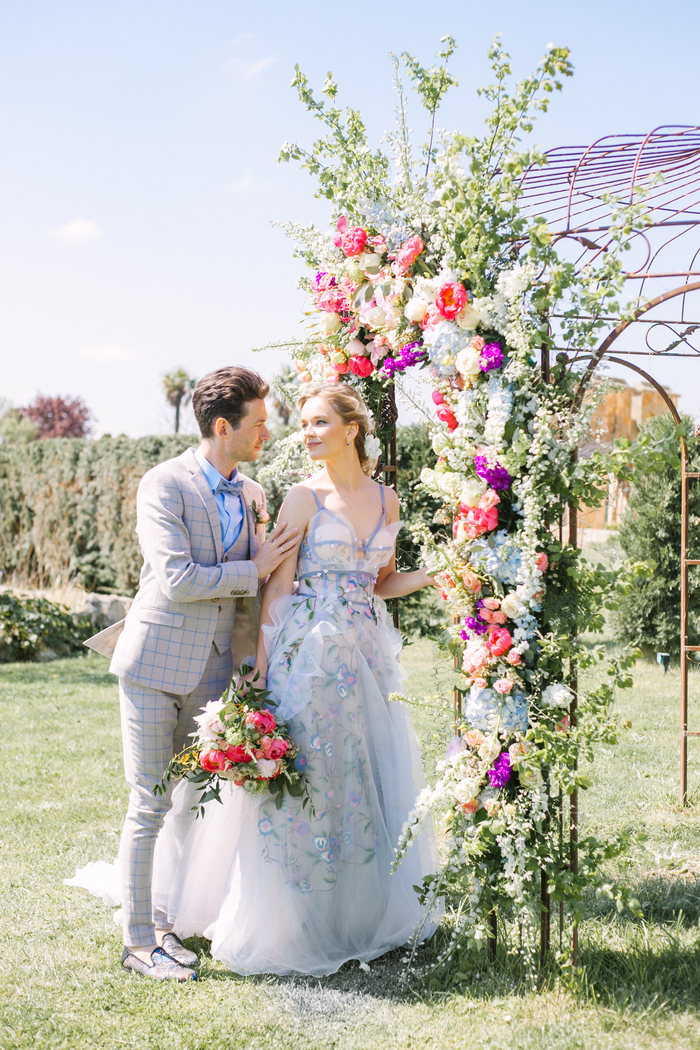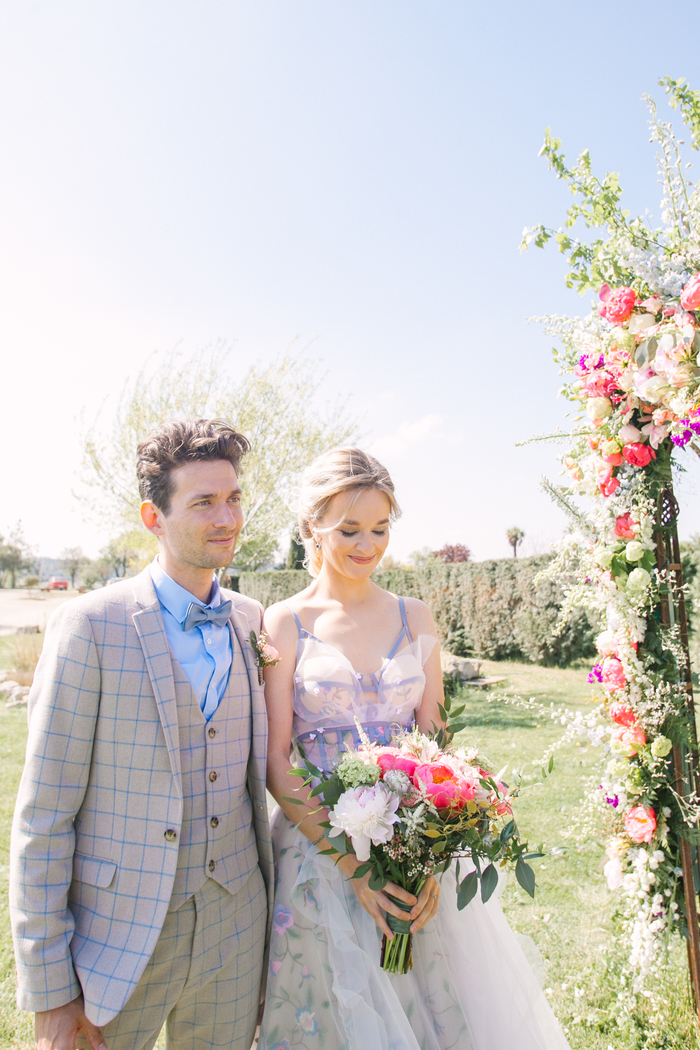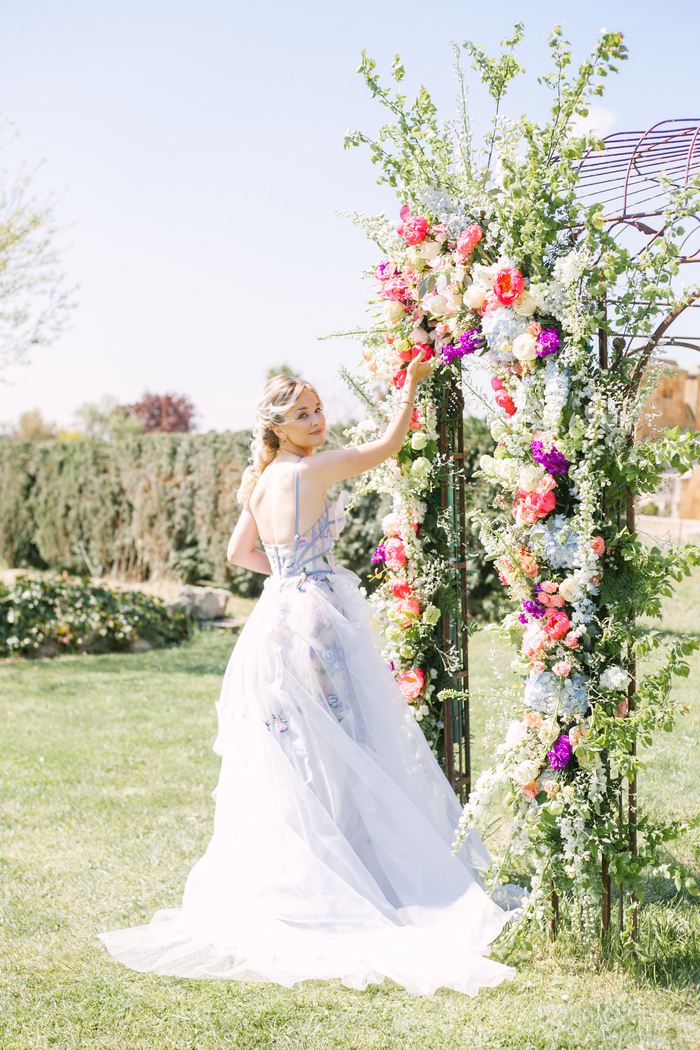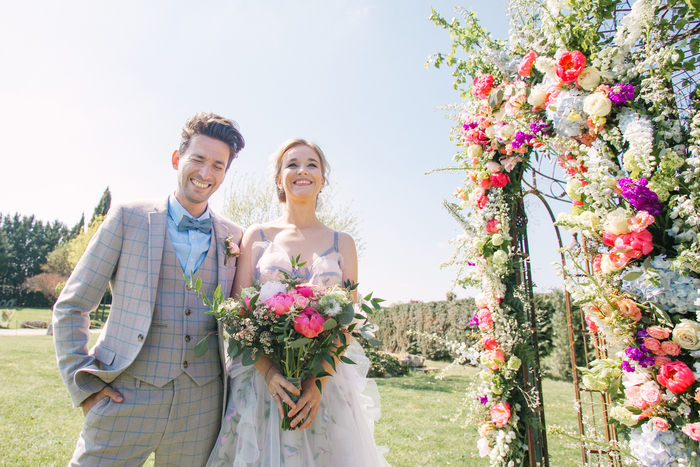 On the way to Salamanca with champagne on board
After the ceremony, we set off the Salamanca since the couple wanted to go past the sights of the city to take photos, so we did this!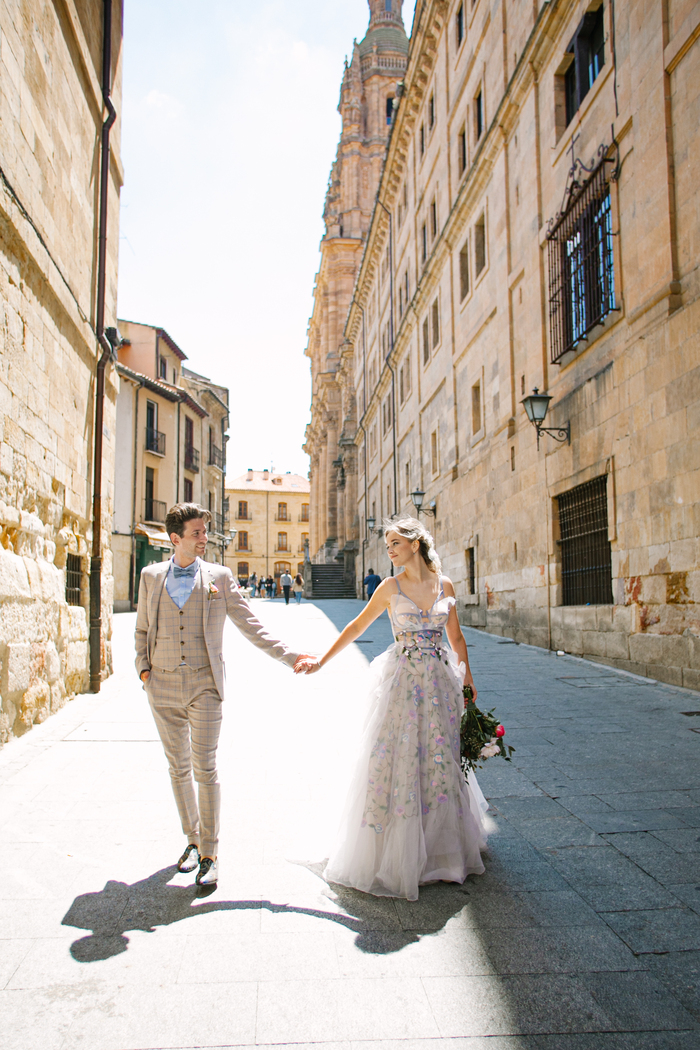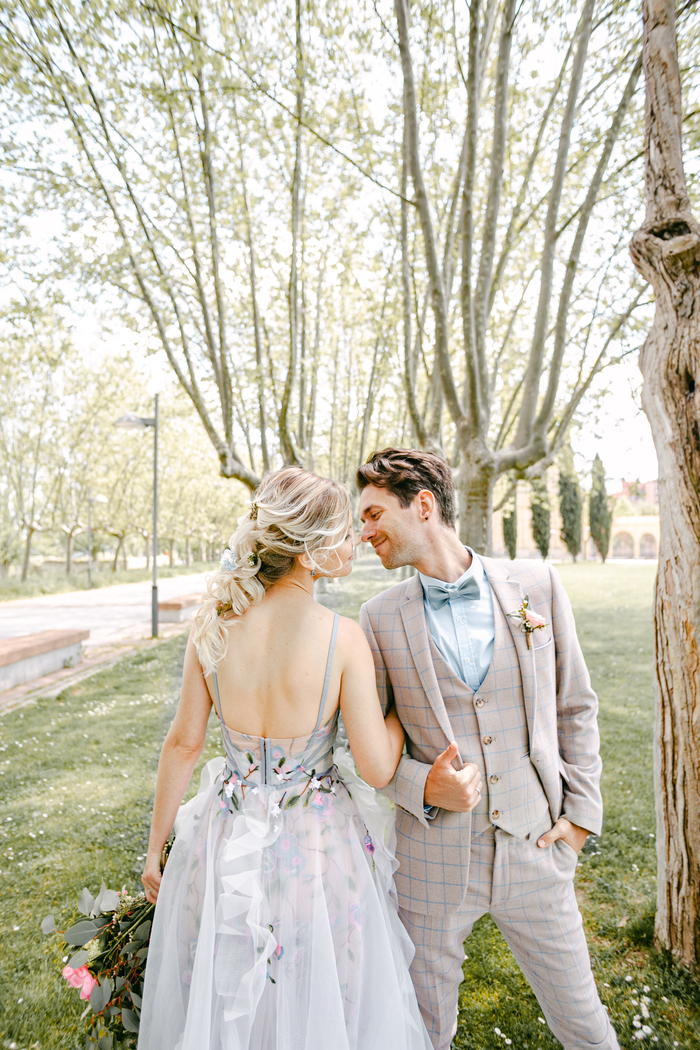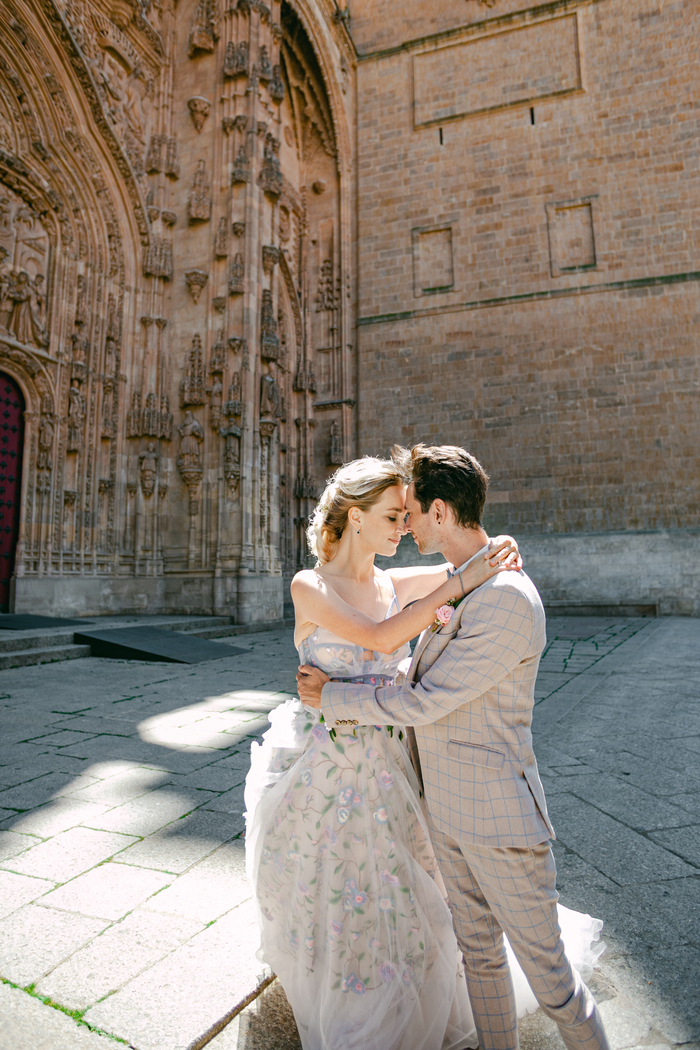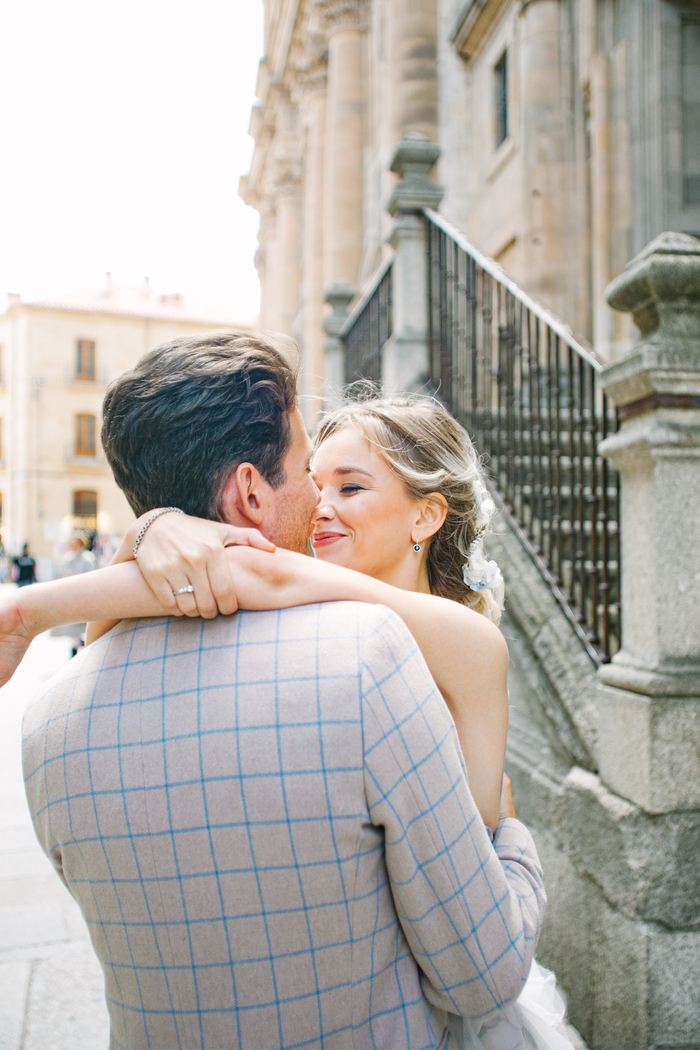 We took them to the majestic sights, like the amazing view of the river, and the couple could open the bottle of champagne to celebrate that they were married and continued enjoying their big day.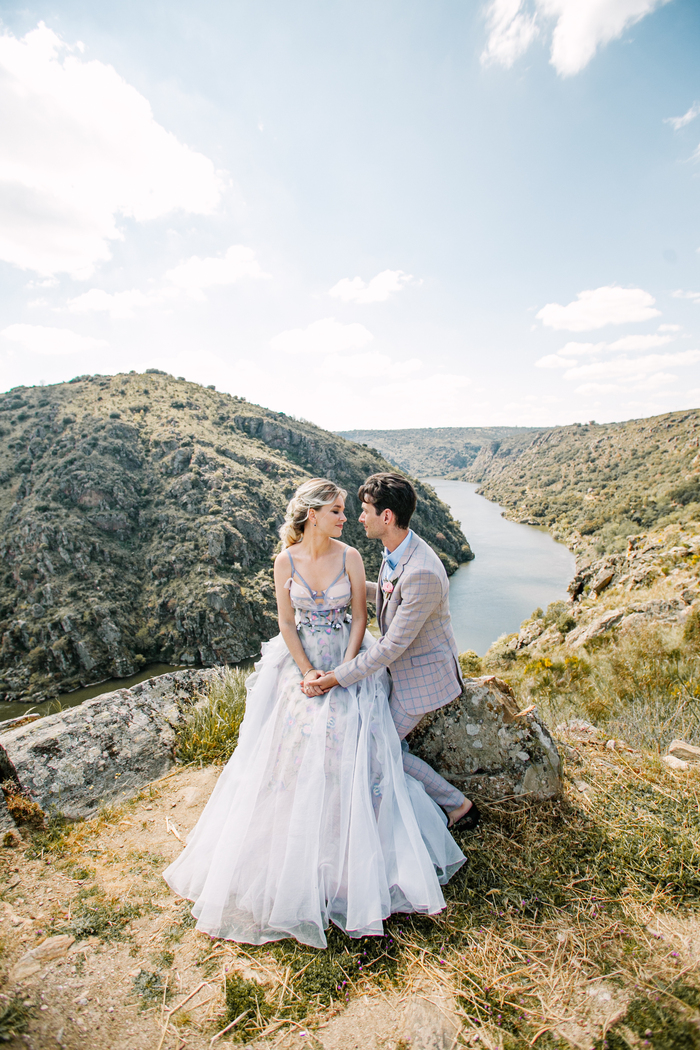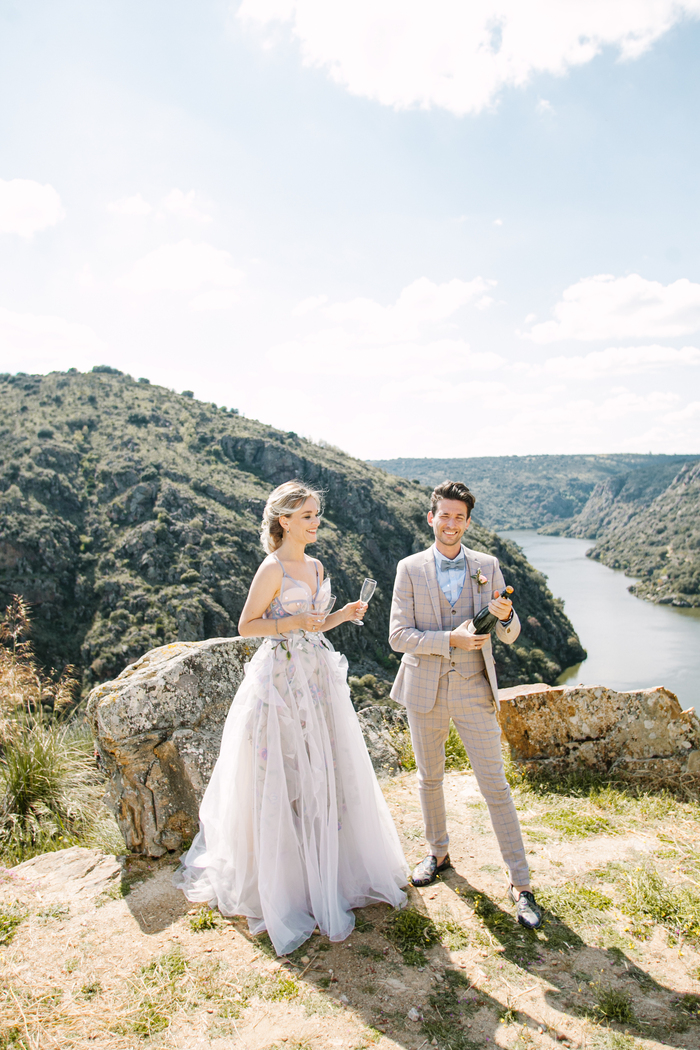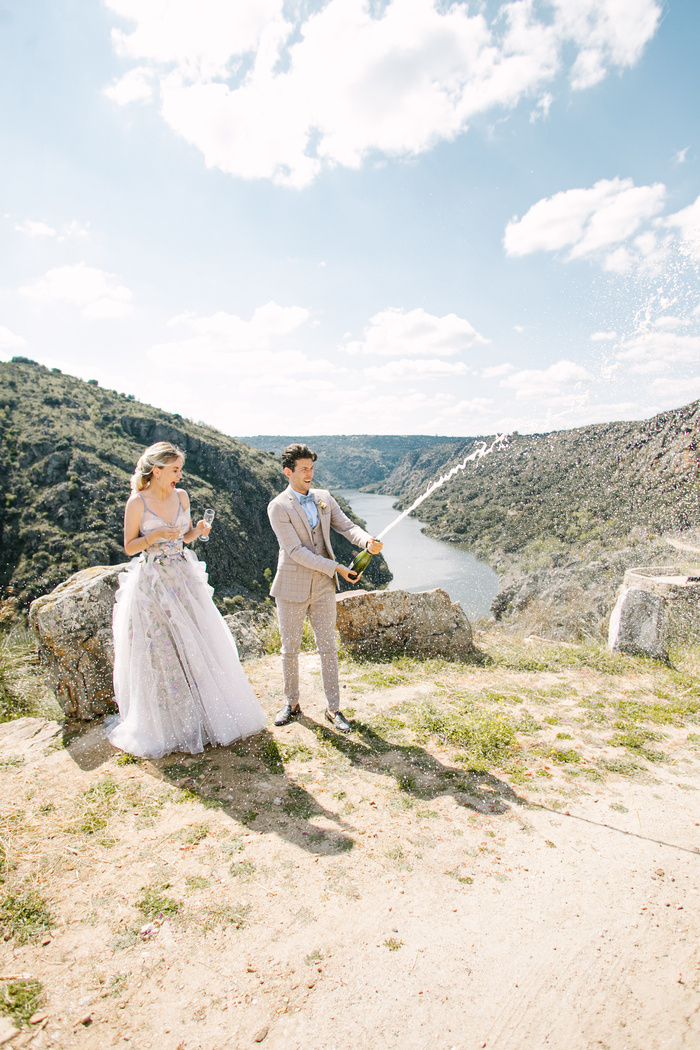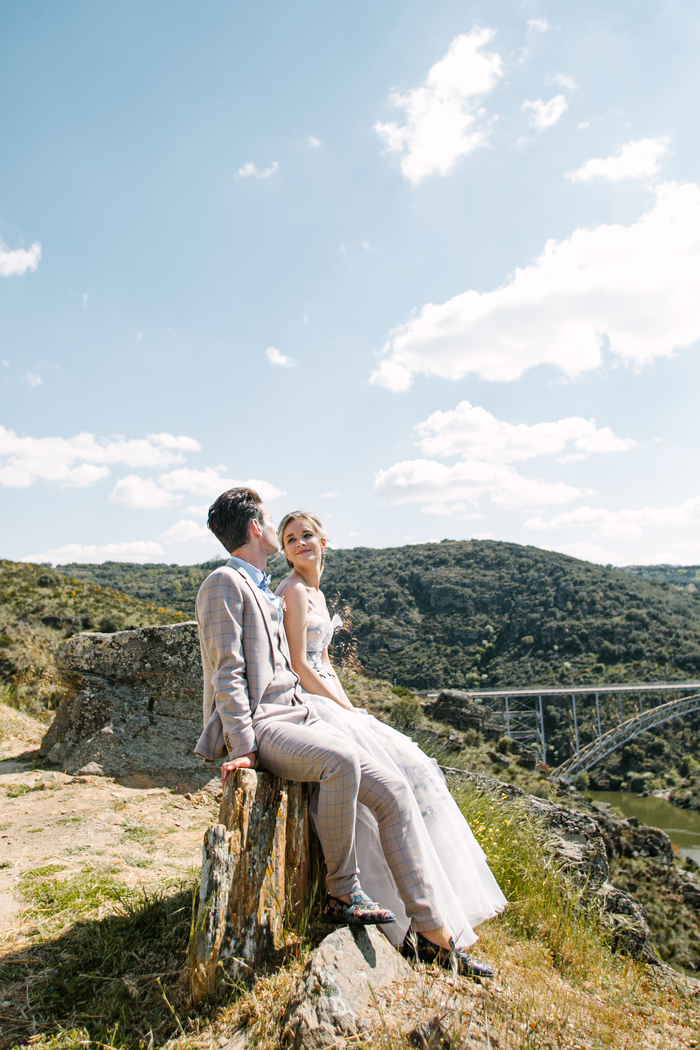 Photos with horses outside the castle
After the drive, a horse came to the castle so that the couple could take photos with it. Both were excited because the bride loves this animal and is learning how to ride them, but the groom had never got on horseback before! And they had a great time doing a photo shoot with this animal.
And Buen Amor Castle is a spectacular, unique venue where this horse-loving couple could have a unique photo shoot with lively, dynamic, spontaneous, and very expressive photos.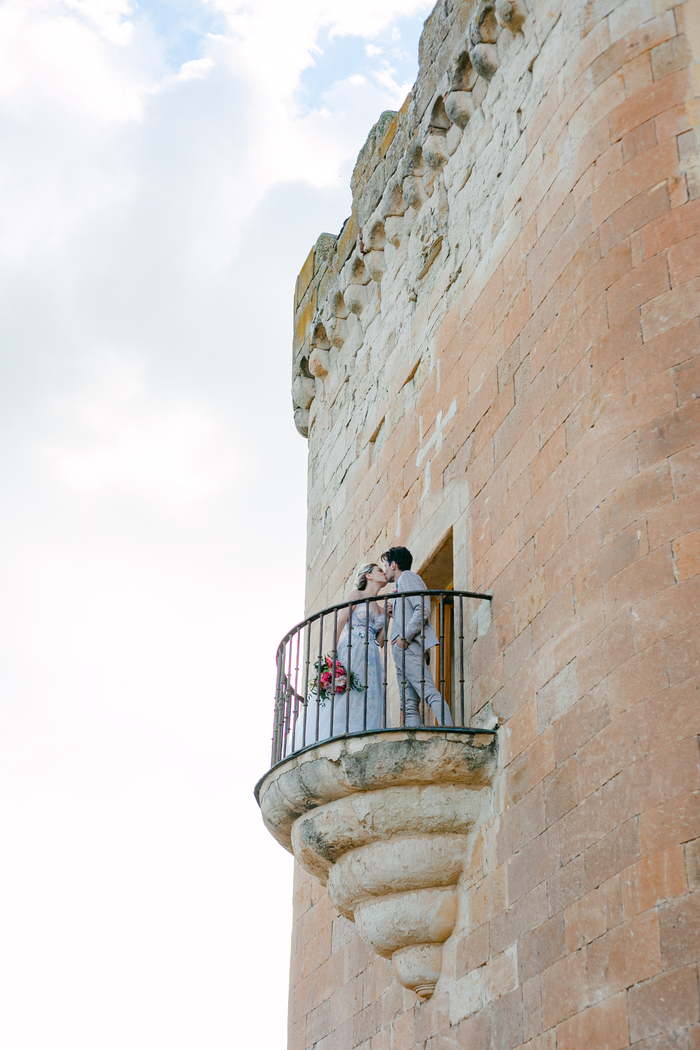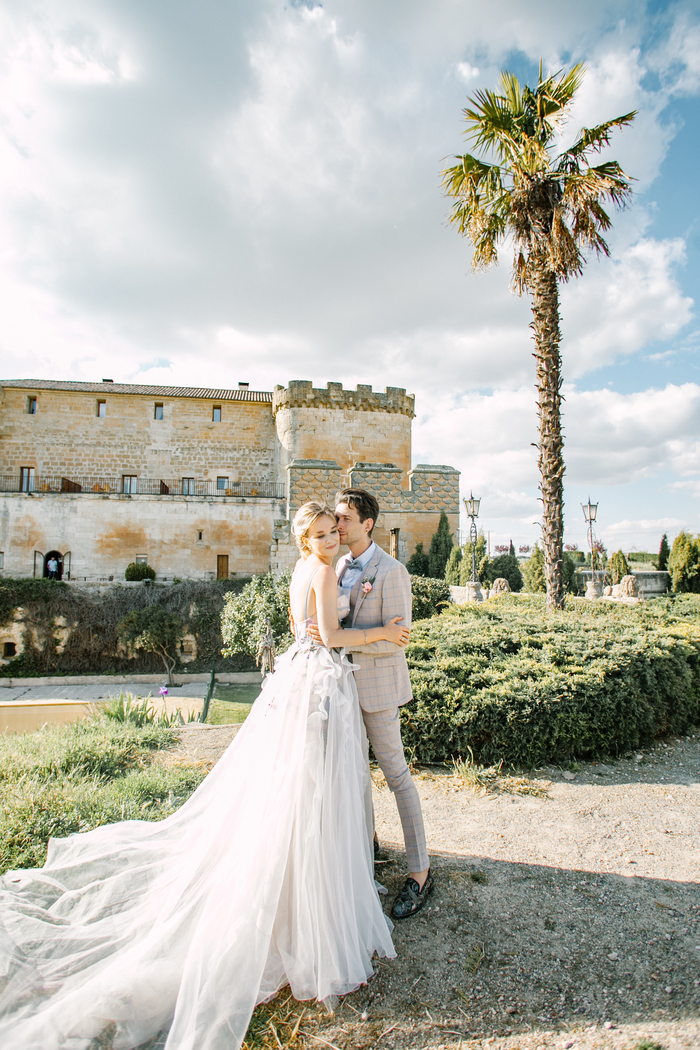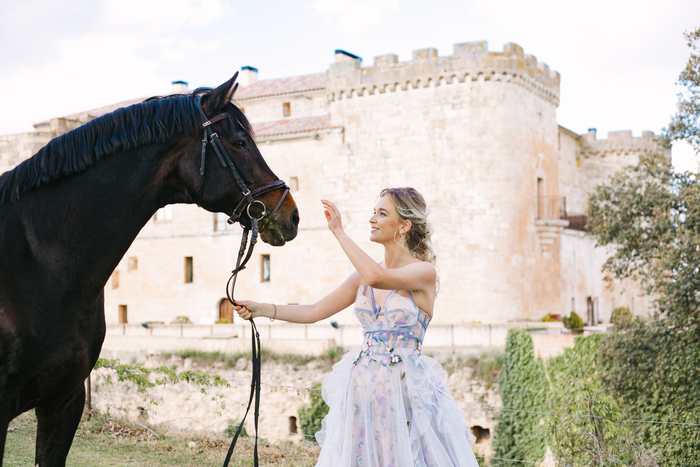 Dinner under the stars
At the end of the big day, this couple has a romantic dinner on their bedroom suite's terrace.
When dinner arrived, they found a table decorated with candles, flowers, delicious food… super romantic! And the waiter only worked for them. Yes, a private butler service!
The best part was the views of the castle and the sky, which was full of stars and which put the finishing touch on the exciting day.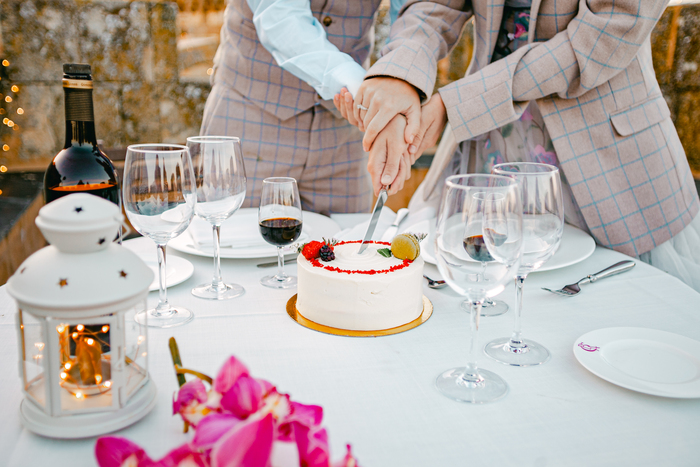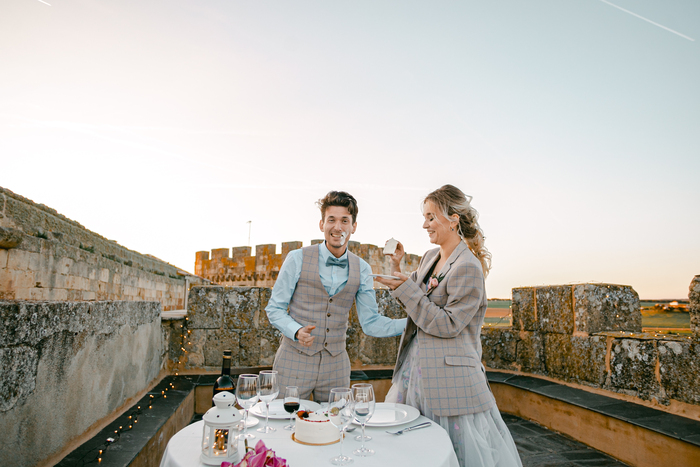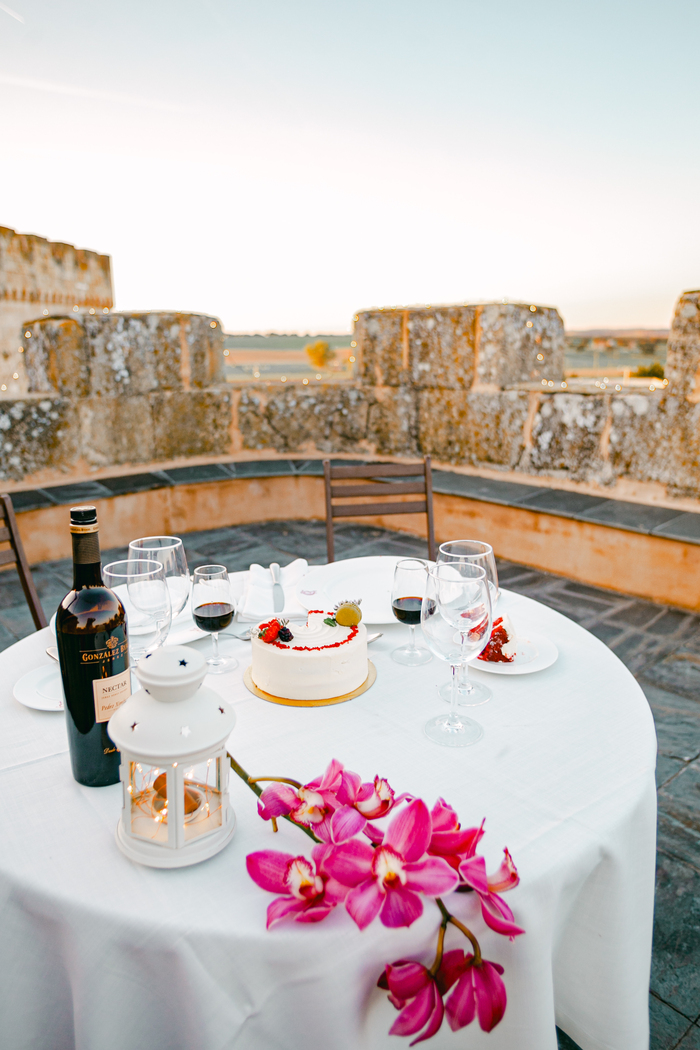 Wedding night in the castle
After experiencing the most important day of their lives, the couple slept in the mediaeval suite on their wedding night. And everything was covered in rose petals, a bottle of cava and candles!
So, they managed to create memories that they will remember for the rest of their lives.
Now, if you also want an elopement wedding at Buen Amor Castle like this couple, at Perfect Venue we have the Perfect plan for you, so, if you want to experience celebrating your elopement wedding at a castle, at Weddings and Events by Natalia Ortiz, we can organise everything for you.
You just have to reserve us with one click, and then just enjoy yourself.
We are waiting for you!