A proposal is one of the most exciting moments in a life time and this is why this moment deserves a unique and magical place, such as a proposal in Barcelona.
Who has never dreamed of a proposal that would be worthy of a movie? To impress your partner and make that moment memorable, you have to start by finding the place that will become the setting for the big question.
And that's why we're here! To tell you in this article the top of the best places to have a proposal in Barcelona.
It will be unforgettable!
1. Top best places for proposal in Barcelona: Beaches
Beaches are a great place to propose, as you can ask the big question on the sand at a romantic candlelit dinner at sunset, with live music, sailing on a yacht… Besides, the sun, the sand, the sea, the good weather and the sunset make it the best place to ask your favourite person the big question.
Barcelona has beaches in the city that you can easily get to, the most famous ones are:
Barceloneta Beach
Barceloneta beach is 422 metres long and is one of the oldest and most traditional beaches in the city. It is one of the favourite beaches for all visitors and, of course, for the couples who are going to get married. This area has wooden walkways that reach as close as possible to the water. It can be decorated with flowers and lanterns of light. Can you think of anything better?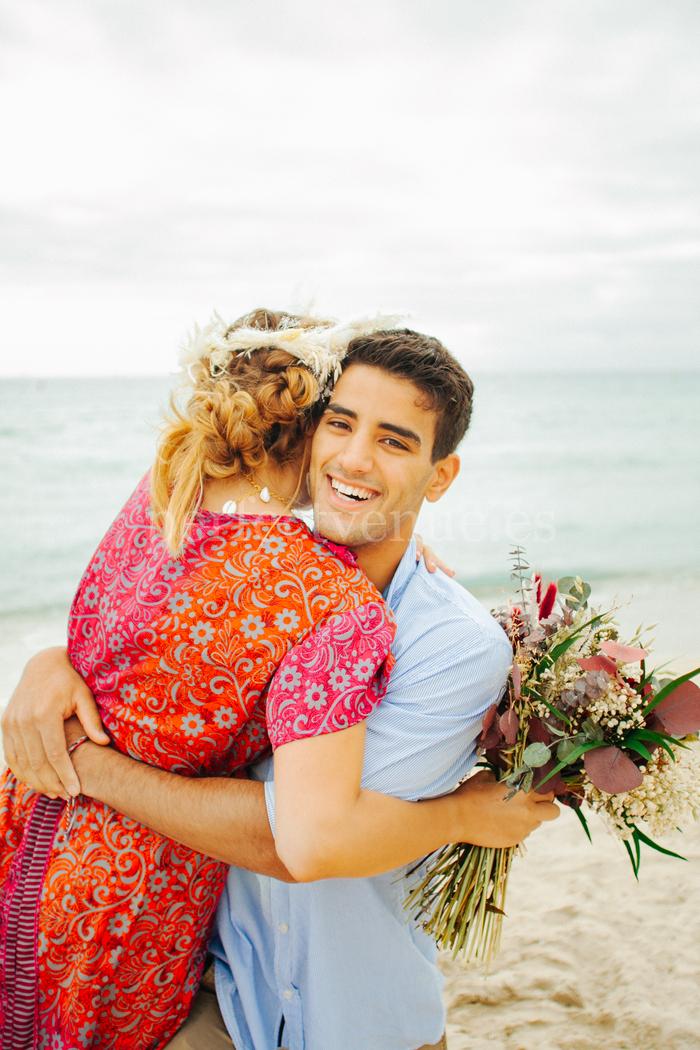 San Sebastian beach
San Sebastián Beach, like Barceloneta Beach, is the oldest and most traditional. It is the location of the sports clubs that are very popular in the city for its extensive marine activities. This beach is also one of the largest, about 660 metres long, with wooden paths that run close to the water. We really like the idea of the offerings on the beach!
2. Top best places to propose in Barcelona: Castles
To propose in one of Barcelona's fortresses, in the middle of the sunset, and at the most magical time of the day, the bride will never forget the moment when the groom knelt down in front of her and took the precious ring out of one of the towers. Besides, castles usually have wonderful views. If you want a proposal story worthy of a fairy tale or medieval history, this is the place for your proposal in Barcelona.
Vilassar de Dalt Castle
Vilassar Castle is located in the Spanish municipality of Vilassar de Dalt, in the province of Barcelona, Catalonia. It was built in the 10th century and has a massive cylindrical tower and an enclosure with a wall that fills the place with mysticism and charm, perfect for a wedding proposal in Barcelona. Oh, and it has views over the Mediterranean Sea.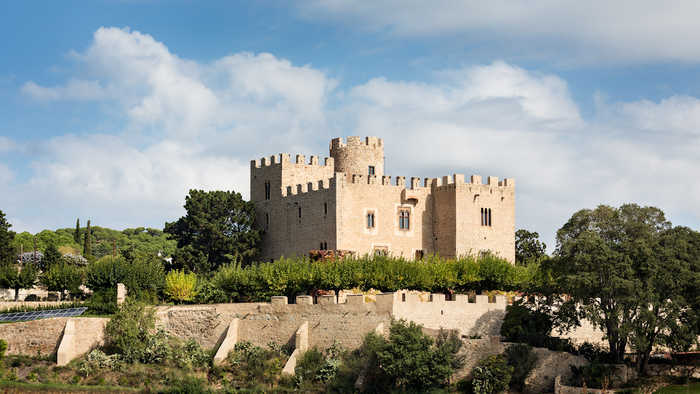 La Baronia
La Baronia, an early 20th century building located forty minutes from Barcelona, is the ideal venue for an exclusive and unforgettable marriage proposal in a setting brimming with natural beauty. The magic of its garden and the modernist details of the house create an incomparable setting to celebrate an exclusive and unforgettable marriage proposal.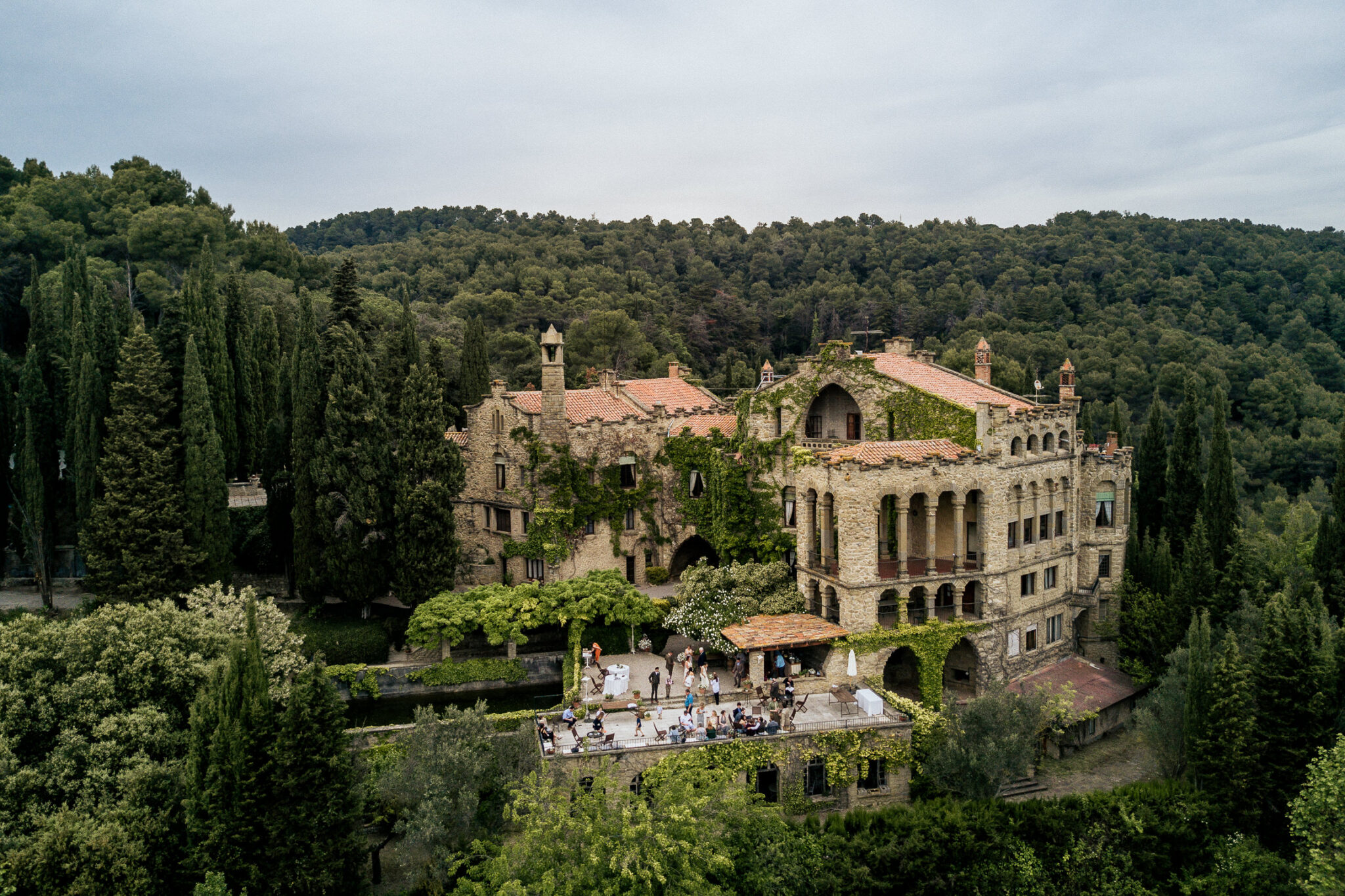 3. Top best places for a wedding proposal in Barcelona: Parks
Parks are another safe bet, as they have different areas that are perfect for a wedding proposal. Yes, many of them have lakes, flora and even fauna. Think that if the date of the proposal is in autumn you will have leaves falling from the trees and vibrant colours, while if it is in spring everything will be in bloom and full of colour. A park is an extremely photogenic space, so you'll have photos full of light and romance! If you like this idea, you're in luck because Barcelona has dream parks for an unforgettable proposal.
Park Güell
One of the best-known sights in Barcelona after the Sagrada Familia and La Pedrera. The park was designed by the famous architect Antoni Gaudi and offers a magnificent panorama of the city. Inaugurated in 1922 thanks to Eusebi Güell, the park was declared a UNESCO World Heritage Site. The colourful ceramic mosaics are one of the park's attractions, with the famous dragon sculpture and the 110m-long snake-shaped bench standing out. Your wedding proposal in Barcelona will be full of colour!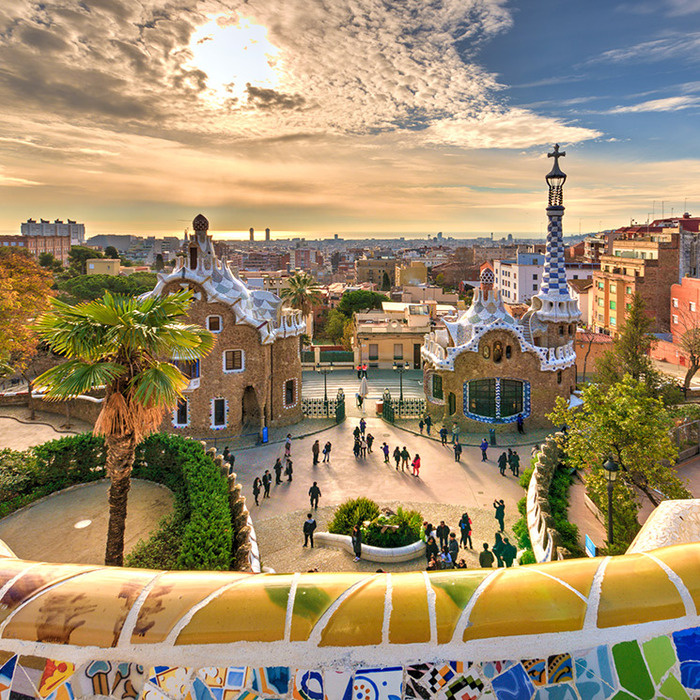 Horta Labyrinth
Make you feel like you're in the Alice in Wonderland film by immersing yourself in this labyrinth of vegetation made of cypress trees. The Parc del Laberint d'Horta is the oldest preserved garden of Barcelona. Created as a neoclassical garden with a touch of Italian physiognomy, it ended up becoming a romantic garden.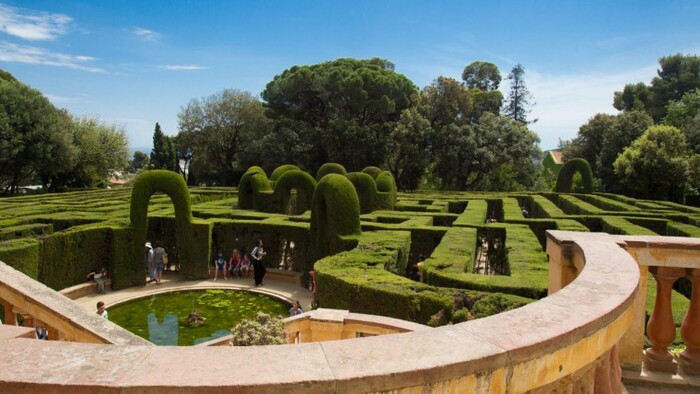 Ciutadella Park
Full of hundred-year-old trees, the Ciutadella Park contains a wide variety of elements: a monumental waterfall, 19th-century buildings that have been converted into museums, a lake with paddleboats, promenades and numerous sculptures. It shares its space with the zoo. It has more than a hundred species of plants, with many centenary trees and interesting sculptural ensembles.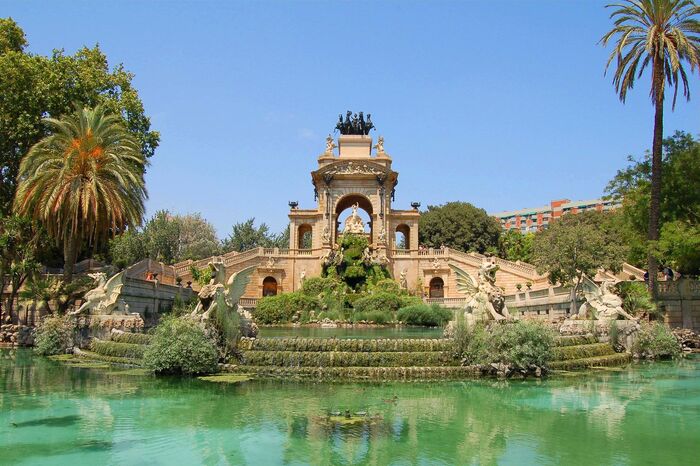 4. Top best places for a proposal in Barcelona: Rooftops
One of everyone's favourite places are the high-altitude views. If you want to look for a special place to turn a normal night into an unforgettable moment like your proposal, a rooftop in Barcelona is a safe bet. In addition to the location and panoramic views of Barcelona, many terraces also have a restaurant to celebrate the "I do" with a special degustation menu.
The Claris Terrace
A place where you can feel good, with an elegant, discreet and intimate decoration on the rooftop of the emblematic Claris Hotel & Spa 5*GL with views over the Eixample, one of the famouse district of Barcelona. In addition, after the "I do" the restaurant La Terraza del Claris offers you an innovative Mediterranean cuisine based on the best fresh seasonal products to celebrate in style. La Terraza del Claris has prestigious cocktail waiters and an extensive cocktail menu that will make you enjoy a relaxing moment by the pool.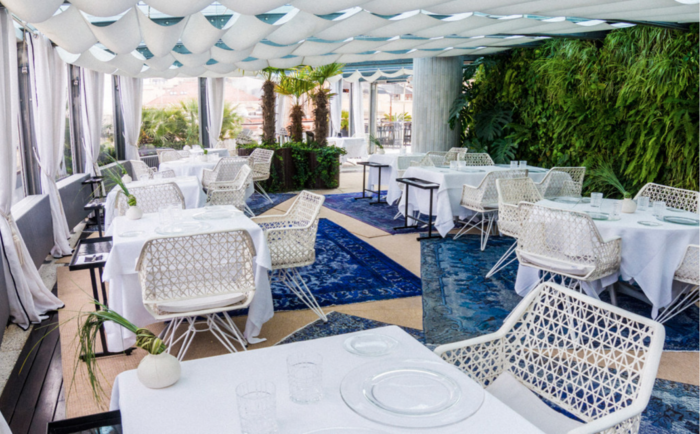 Dreta Eixample
Perfect for a wedding proposal, this terrace is located in a building that is part of Barcelona's architectural heritage. Its terrace is suitable for both summer and winter, so it gives us the possibility of celebrating your proposal at any time of the year. It has an enjoyable atmosphere, with an elegant, discreet and intimate decoration. 
5. Top best places to propose in Barcelona: Hotels
Proposing in a hotel? Yes, it's a classic plan that never fails. But as long as the hotel is spectacular and you can feel its romanticism in every corner. Do you want to know some of the hotels you can choose to propose to your girlfriend in Barcelona? Well, here are our favourite hotels in Barcelona:
Hotel W Barcelona
The Hotel W Barcelona's 2,100 metres, divided into a variety of rooms, spaces and terraces, provide the ideal setting for an unforgettable wedding proposal. It is located on the beachfront, next to the famous Barceloneta promenade. The fabulous rooms and suites have panoramic views of the Mediterranean and the city of Barcelona.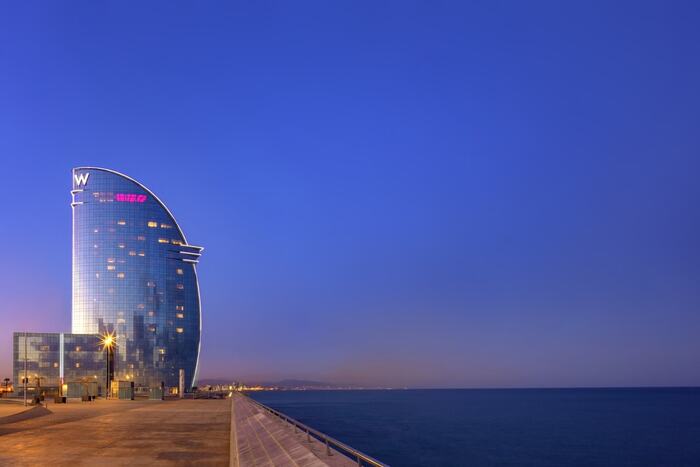 Hotel The Serras
One of the other beautiful hotels in Barcelona is the Hotel The Serras. This is the perfect place to carry out your wedding proposal. It is an elegant hotel that you can find right on Paseo de Colón and you can stay in one of its spectacular rooms with views of the Mediterranean Sea or with views of the emblematic and historic Gothic Quarter.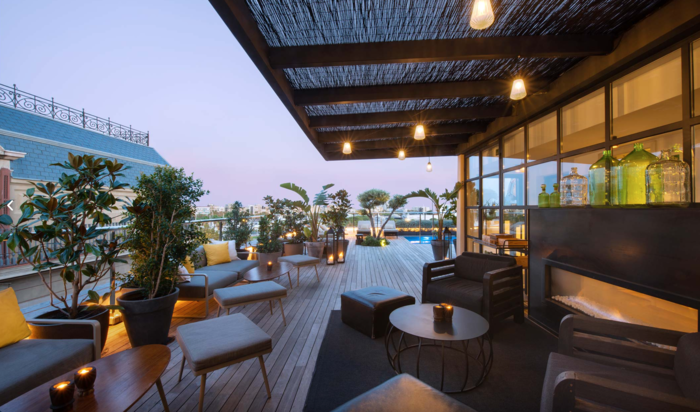 6. Top best places to get married in Barcelona: Emblematic locations
The world is full of exciting and impressive places to visit, and of course, Barcelona has some of the most emblematic places recognised worldwide. They are special, unique, and receive thousands of visitors every day. So why not to propose hand in a representative space of Barcelona?
Magic Fountain Montjuic
The Magic Fountain Montjuïc is an emblematic place in Barcelona. It stages shows with more than 7,000 million possible combinations of water, light and colour accompanied by theme music, attracting 2.5 million spectators every year. We wouldn't miss a proposal of marriage on this stage for anything in the world!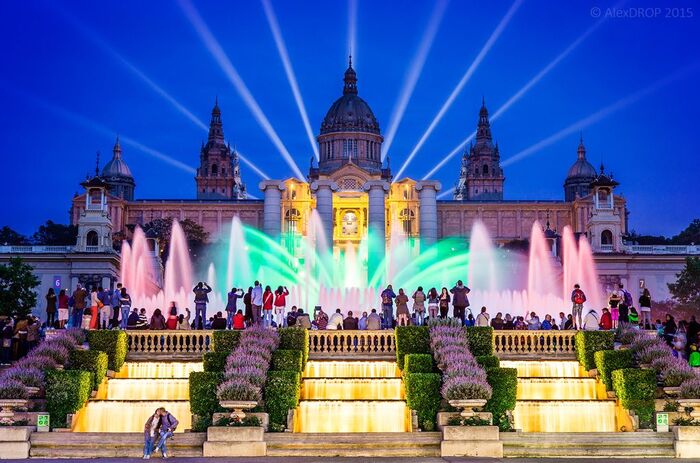 The Sagrada Familia
Despite the many visits that always surround the Sagrada Familia, if it is your place, we know its secrets, perfect spaces for an unforgettable proposal in Barcelona, where you will feel like you are alone together, with the rhythm and time of the city at your side, that will be an accomplice of your moment. And our camera will take pictures of every moment.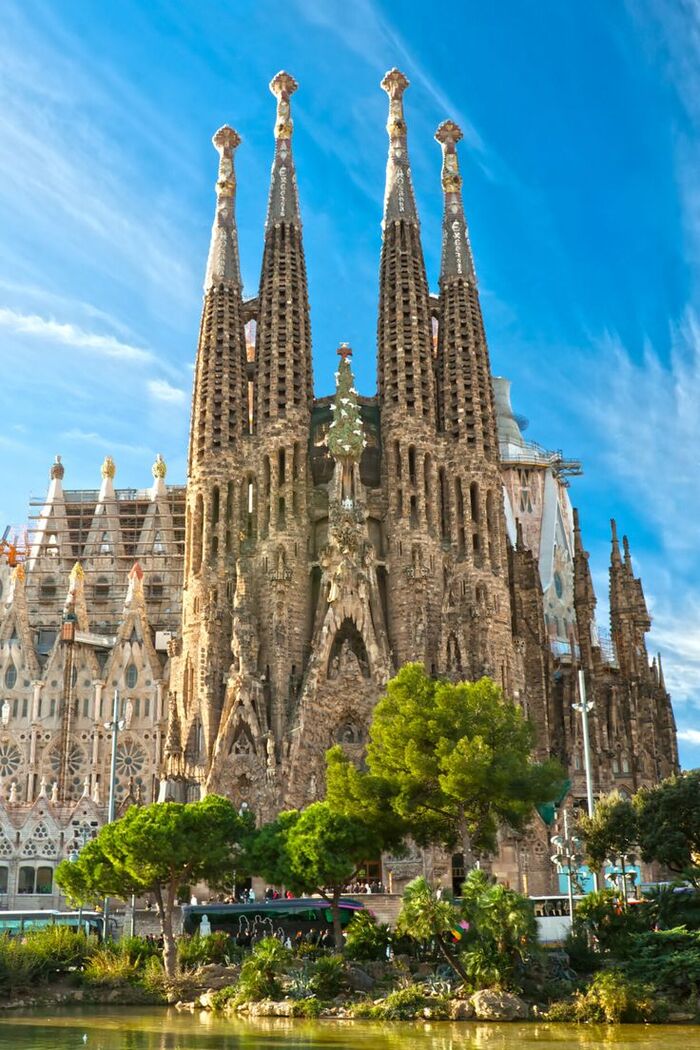 7. Top best places to propose in Barcelona: Original venues
If you're thinking about where to propose to your partner, but you're sure you want to make a difference, in Barcelona you can consider different original places to make it a fun and memorable moment. Read on!
Tibidabo Amusement Park
Even the most serious person holds a child inside, and who doesn't like amusement parks? Located in the Collserola mountain range that borders Barcelona to the west, and guarded by the religious Temple of Tibidabo, the Tibidabo Amusement Park opened its doors in 1910 and includes the famous Atalaya, which allows you to have a hand-in-hand proposal with the best panoramic views of the city, the sea and the natural surroundings of the Collserola mountain range from 550 m above sea level.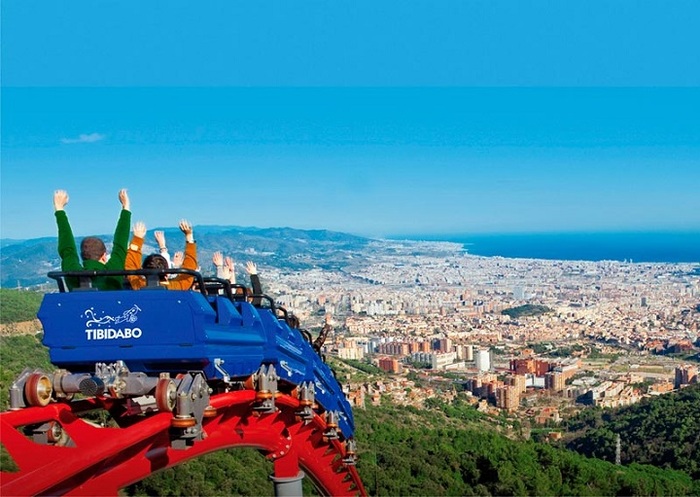 Teleférico cable cars in Barcelona
If you want to leave your partner open-mouthed with a proposal in Barcelona in the sky, the cable car is an excellent and affordable option. In Barcelona we are privileged to have two cable car routes:
Montjuic cable car: Park – Castle – Viewpoint.
Port Cable Car: Miramar – Jaime I Tower – San Sebastian Tower
It is open every day from morning to sunset, depending on the season and time of day.
8. Top best places for a wedding proposal in Barcelona: Gardens
A bucolic landscape for a wedding proposal is also could be a garden full of gigantic trees. It usually has elements such as natural flowers, benches, alleyways, etc. How about filling it with lights as you walk through to ask the big question? We love this idea! That's why, below, we'll dictate our favourite parks in the city.
Vivero de Can Borni Gardens
It is situated just below the Tibidabo Amusement Park, these gardens are little frequented by locals and arguably virtually unknown to tourists, so it a very peaceful place surrounded by nature. Located in the Serra de Collserola natural park, the Vivero de Can Borni is an ideal place to kneel among expanses of gardens, natural terraces and fountains.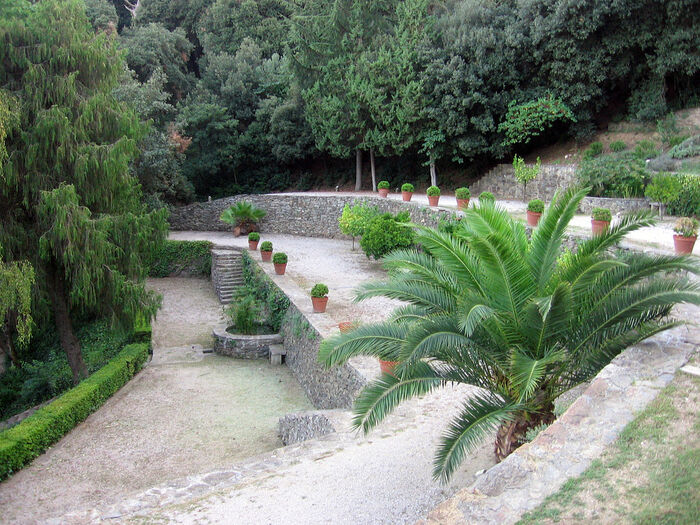 Collserola Park
The Collserola Park, with more than 8,000 hectares, is a natural heritage of incalculable value. Its importance lies in its proximity to the urban environment. It is a lung, a backbone of biodiversity and the connector of two apparently opposing systems: nature and the city. Almost all the Mediterranean fauna is represented by the coexistence of the forest with other spaces such as crops and dry meadows.
Mossen Costa y Llobera Gardens
Another of our favourite Barcelona gardens is the Mossen Costa y Llobera Garden, located on Mount Montjuïc overlooking the sea and cruise ships. It's a sparsely populated garden as it's located away from the tourist areas, making it ideal for a proposal. It also has interesting vegetation, especially a cactus garden. And it's all just a few metres away from the cable car from the port. It's also a great place for a photo shoot after your engagement.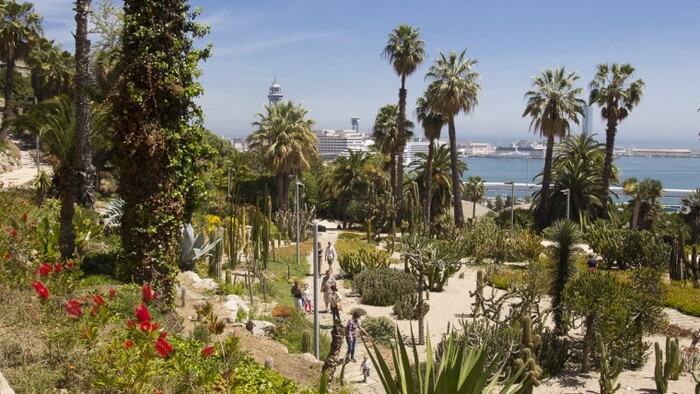 9. Top best places to propose in Barcelona: On the sea
If water is your passion, but you're not convinced by a simple boat, you can go one step further and get together with your partner on board of a ship or yacht, while you enjoy excellent music and a glass of wine sailing the waters of Barcelona. It's a great time to ask the question! You can also count on additional services such as live music to make your proposal a complete experience.
Private yacht
There' s nothing better than a modern yacht sailing the waters of Barcelona to ask the big question. Can you imagine a marriage proposal in Barcelona on board a yacht with dinner and a night in the yacht's cabin? We know that your partner will be delighted and will never forget what it was like to propose on the high seas. You and your partner, the sea, good food and drinks. What could be better?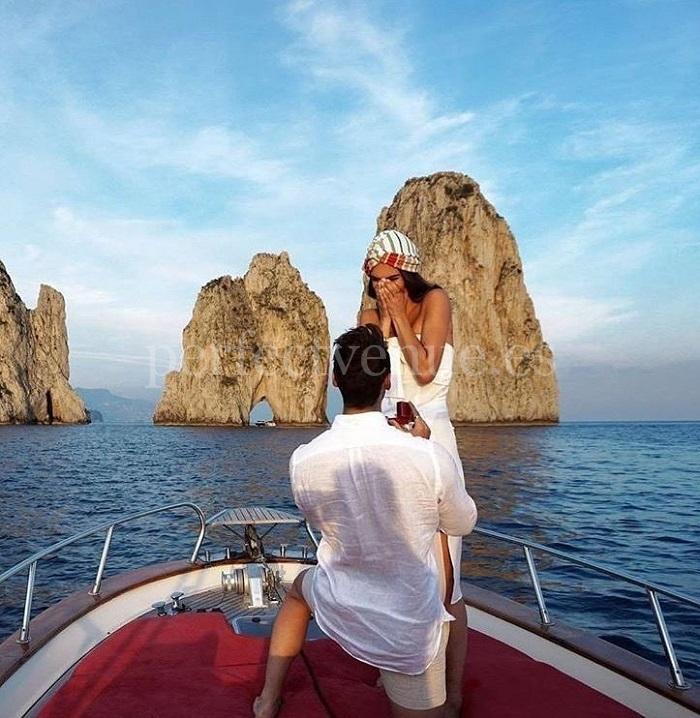 The Golondrinas of Barcelona
The Golondrinas are tourist motor boats that make short trips to show the coastline of Barcelona, providing a beautiful panorama of the city from the sea. With a seafaring heritage going back more than a hundred years, they offer those who want the most attractive and curious views of Barcelona from a beautiful perspective, from the sea. Who can resist asking for marriage in this way?
10. Top best places to propose in Barcelona: Libraries
If your partner loves history, the smell of books and a place as cosy as a library… why not propose in one of the beautiful libraries in the capital? Besides being very original, she won't expect it at all. We'll take care of placing the ring in her favourite book!
Arús Library
You don't need to travel to New York to be greeted by a woman holding a torch and a book. At the Arús Library, once you climb the entrance steps, you will find a reduced replica of the Statue of Liberty. It has beautiful spaces including the entrance hall and staircase, the reading room, the exhibition room, the corridor… So you can choose the setting!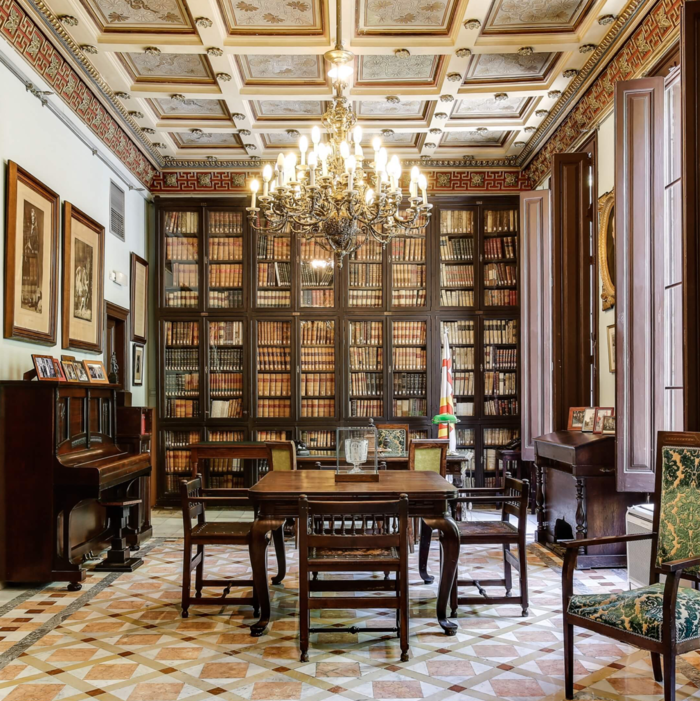 Library of Catalonia
A special library with charm and history is the Library of Catalonia. This library is located in the old Hospital de la Santa Creu, preserving all the charm of the 15th century. It was one of the libraries that remained open the longest during the Civil War, displaying and disseminating culture with more than 3.7 million copies.
Our list of places and locations in Barcelona could be endless, as we know venues for all kinds of couples and proposals, from the most intimate and romantic to the most adventurous.
If you want us to organise your proposal, contact us! We'll find your dream venue for your proposal in Barcelona.
In Perfect Venue we are looking forward to make us accomplices of this great moment organizing everything for you and for your partner.