Description
If you want an original marriage proposal, to leave your partner amazed, emotional, and to create a moment they will never forget, then a marriage proposal in a helicopter is definitely for you.
And if you're planning a vacation to Spain, take advantage of the magnificent trip to propose to your partner during an aerial tour. We will travel to Madrid or Barcelona with the best professionals to make sure everything is set for you to ask for their hand in a spectacular way, flying over the sky of these incredible cities. We take care of everything!
In this article, we will tell you all about this Perfect Plan so that you can have a movie-like marriage proposal in a helicopter, just one click away to book!
Below, we will tell you everything we take care of to make sure you have a successful and original marriage proposal.
They will be speechless!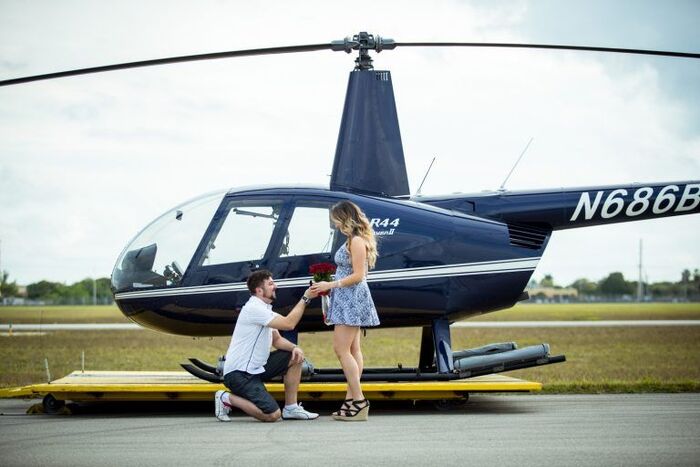 Why a marriage proposal in a helicopter?
A romantic tour is always an ideal plan to do with your partner. But what if you do that tour in a helicopter? Doesn't it sound amazing? It can be a perfect place to show how much you love that special person. A high-flying marriage proposal to start your beautiful journey towards the altar.
A marriage proposal in a helicopter in Madrid or Barcelona
We believe that you should ask for their hand in the city of your choice: where you met, where you had your first kiss, or where you have always dreamed of traveling. In Spain, we have thousands of spectacular cities that can be the perfect place for that big step of proposing, but our favorites are definitely Madrid or Barcelona, as they are the largest and most impressive cities to admire from the heights.
In Barcelona, you can see from above Las Ramblas, the Sagrada Familia, the Gothic Quarter, the Barceloneta… while in Madrid, you can catch a glimpse of the grand Royal Palace, Retiro Park, its fountains, El Escorial, the sierra…
Marriage proposal with extras
The spectacular flight can be complemented with whatever you need to feel comfortable in this special moment. For example, a bottle of cava, a photographer, a spectacular bouquet of flowers, etc.
For us, giving the bride a bouquet of flowers adds more romance and magic to the moment, that's why we take care of getting the freshest flowers for you to give to the bride during your helicopter proposal.
We will arrange a bouquet filled with daisies, roses, lavender, eucalyptus leaves, sunflowers, lilies, tulips… whatever you can imagine! But if they are the bride's favorites, even better.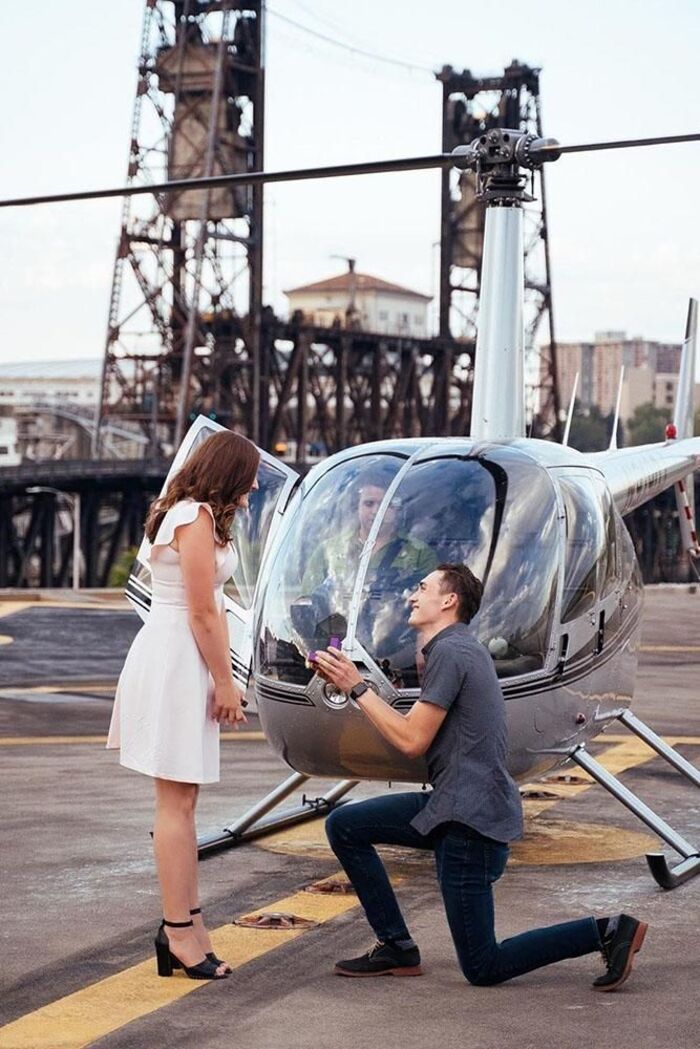 Helicopter proposal with extra activities
Yes, this helicopter ride can be combined with countless activities such as a limousine ride, a professional photo shoot, a magical night on a private sailboat, or anything else you can think of. But if there's something we always recommend, it's a dinner or meal to celebrate the big moment.
Helicopter proposal with a giant sign
Ask your partner to marry you with a giant sign strategically placed along your route! We take care of placing it in giant size and making the words "Will you marry me?" visible from the helicopter.
We love the idea!
Photographer and videographer for the moment
To remember the moments experienced during your helicopter proposal, we always recommend hiring the services of a professional photographer and videographer, so you can reminisce your celebration in style over and over again.
You can't say no to having a photoshoot of one of the greatest moments of your life!
Organization and coordination
Yes, we want everything to go perfectly, that's why we are part of your helicopter proposal, organizing everything in advance and coordinating the entire day.
We will make sure everything is in order and pay attention to every detail. We will prepare everything to your liking, you just need to tell us everything that is essential for your day, and your wishes will be our commands!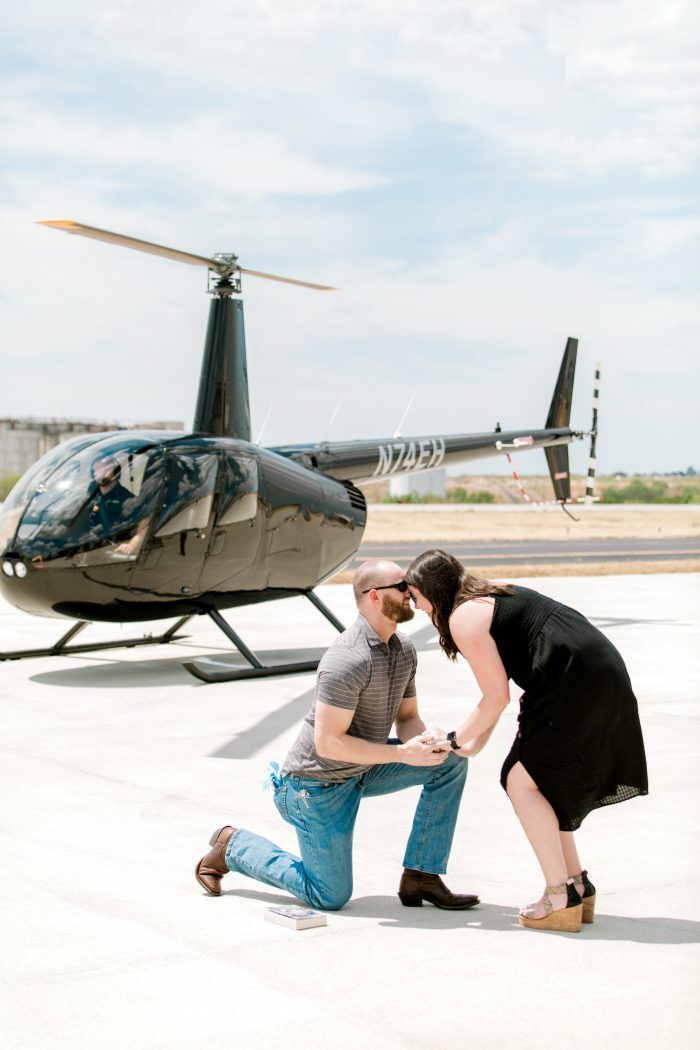 Prices, to be consulted
The price of a helicopter proposal depends on different factors such as the location where it will be celebrated, the date of preparation, the type of helicopter you desire, and the elements you specifically need, such as food, champagne, bouquet of flowers…
This experience will make you forget the stress of organizing everything and doing it all without the bride suspecting. Quite challenging!
We are at your disposal to listen to your dreams and desires and try to offer you the perfect plan to make all your dreams come true. Are you more inclined towards a helicopter proposal at dawn or at dusk?
Contact us at Perfect Venue to get started with your original helicopter proposal with an aerial show!
And if a helicopter proposal doesn't quite convince you, don't miss out on other original marriage proposal ideas like a private chef at home, a marriage proposal in a private castle, a marriage proposal at a winery with wine tasting, a flashmob marriage proposal, or a marriage proposal in Mallorca.