Description
The release of butterflies at your wedding or engagement is a beautiful and highly symbolic idea. Butterflies represent energy and freedom, which is why they are often included in couple events.
If you are a couple who enjoys symbolic celebrations, this ritual may interest you. In addition to creating a visually stunning and joyful spectacle.
Filling the landscape with butterflies or doves is a beautiful act that is currently trending among some couples, so here we tell you everything that is included in this Perfect Plan and all the doubts that may arise.
The best time to do it, what it means, the price of hiring it, where to do it… We don't leave anything out!
Get comfortable because… Let's get started!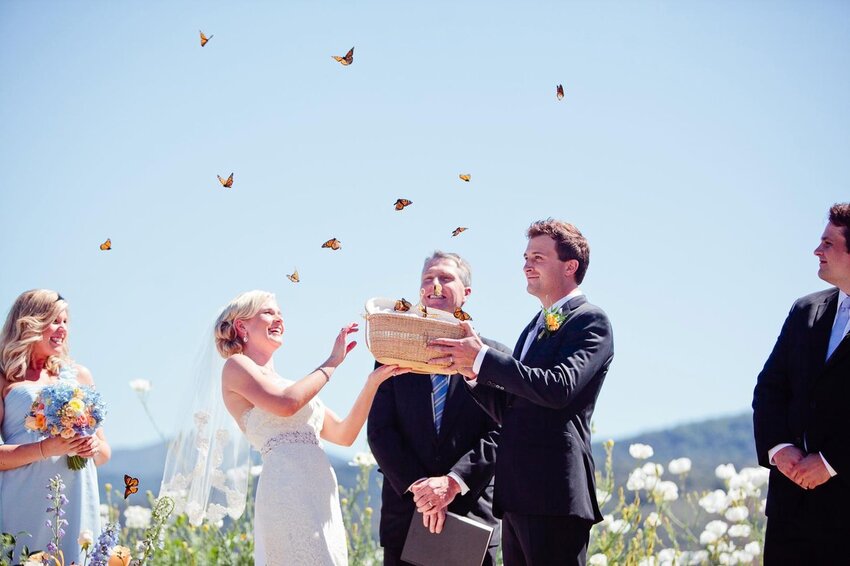 What does the release of butterflies at your wedding or engagement mean?
There is a Nahuatl belief that a person could have happiness, fortune and joy if they caught a butterfly and whispered a wish or request to it while admiring its beautiful colors and wings. The butterfly listened quietly and, upon being released, fluttered its wings, thus carrying the wish.
In ancient Greece, Psyche, the mortal who was able to win the love of Eros, was also represented with butterfly wings.
Another belief is that in indigenous communities, butterflies are messengers from heaven, and therefore can be whispered phrases with wishes for the couple. They will keep them as secrets and will carry them directly to God so that they come true.
Therefore, the release of butterflies at your wedding or engagement represents many feelings: the beginning of a life together, spreading peace and good wishes from those who received the elegant wedding invitations, honoring the memory of a loved one who has passed away, and representing fidelity, among many other things.
What does the release of butterflies at your wedding or engagement consist of?
As the name suggests, the release of butterflies at your wedding or engagement is a moment when butterflies, which are housed in a ventilated box, are released, allowing them to fly. There are several modalities.
In the first option, the butterflies are contained in a special box and the couple releases them at the moment they decide in order for them to make a harmonious flight, either at their wedding or engagement. In the second option, the butterflies are given to each wedding guest in a ventilated box so that they can be released at the end of the ceremony.
In the third option, the other two releases can be done at the same time. This way, you can enjoy a massive release as a couple and then each guest can release their own individually.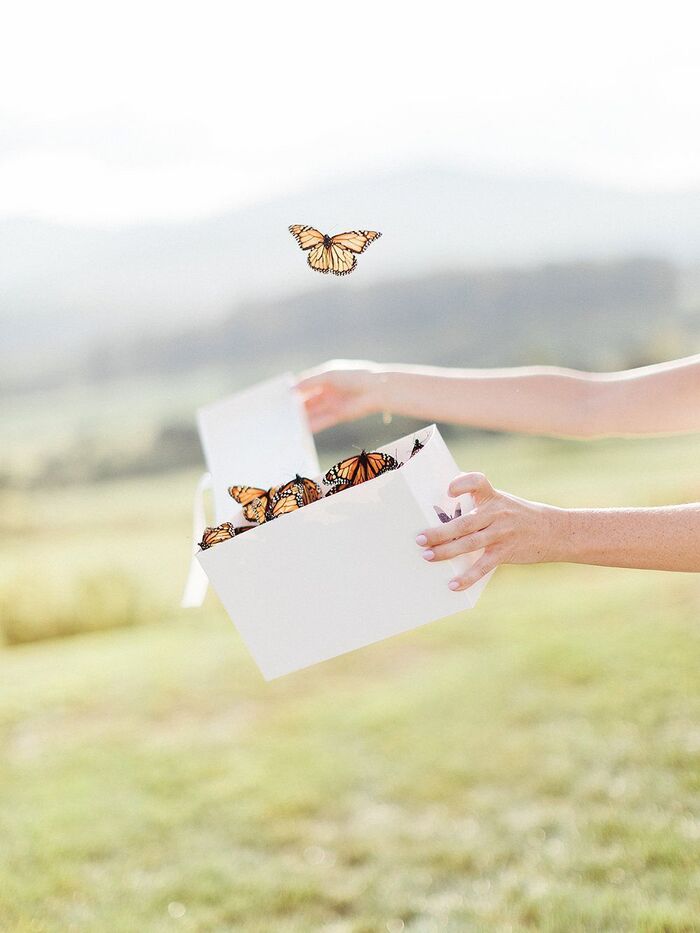 Are the releases done with real or paper butterflies?
You can have both options, but if they are real, there are several factors to consider and we take care of them, as it is essential for us to avoid transporting or shipping the butterflies, which would mean death for many of them.
We also ensure that the release is only carried out during the day and in open spaces free of smoke and excessive noise, otherwise the butterflies may experience some stress.
In addition, we make sure that the butterflies are newly born, as upon release they have the possibility to complete their cycle in the most normal way possible and that the company that provides us with the service does not commercialize cocoons or caterpillars, as these require very special care, such as temperature, light and humidity control.
On the other hand, couples who are not convinced of using live insects in their wedding, but believe in symbolism or their legends, can evaluate other alternatives. If they are excited to have photographs in which hundreds of butterflies fly over, they can opt for other options, such as paper butterflies.
Where is the butterfly release performed at your wedding or engagement?
We always recommend carrying it out in an outdoor space, although there are some indoor spaces that allow it. This will depend on the conditions of the venue.
If the release is done outside there will be no problem, while if you want to do it inside a castle, farmhouse or restaurant, permission must be obtained from the responsible person.
And it doesn't matter if it's in Madrid, Barcelona, or any other city in Spain, because we travel so you can have the butterfly release at your wedding or engagement anywhere in the country.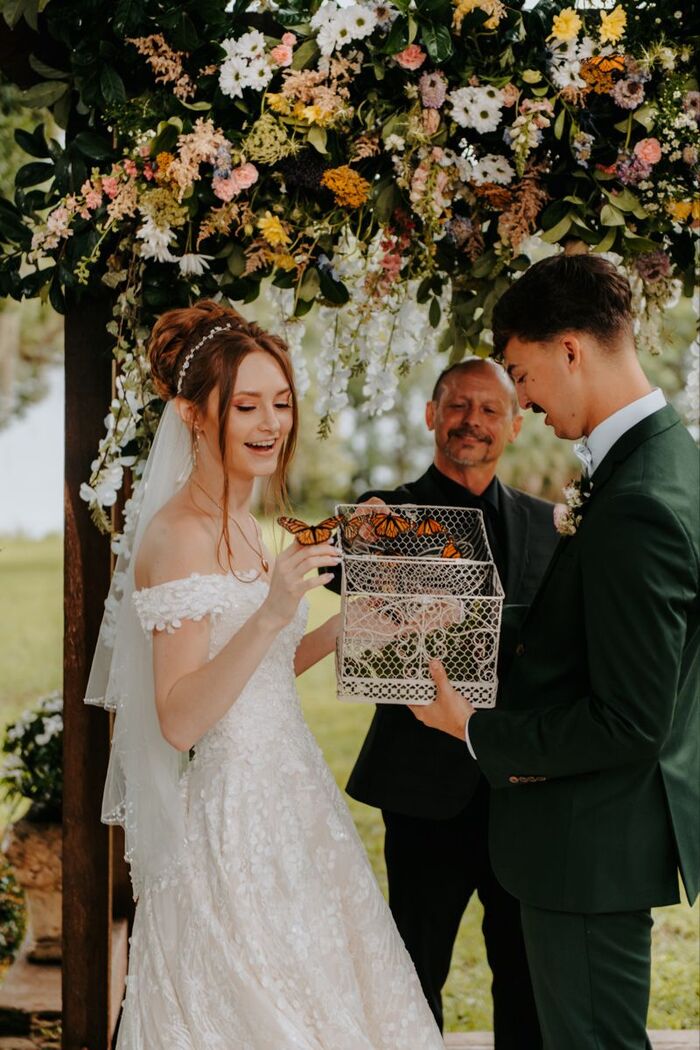 How many butterflies are needed for the release?
We recommend a minimum number of 150 butterflies, less than that is not advisable, as the effect will not be as impressive.
However, you should keep in mind that the more butterflies you have available, the more spectacular the effect will be.
When is the best time to release butterflies?
As butterflies need light and warmth to fly, the best months are from April to October. In June, July, August and September, there is not much of a problem, as it gets dark later, but in April, May and October it is recommended to release them only in weddings or proposals in the morning or at noon.
What is the price for releasing butterflies at your wedding or proposal?
We could give you an estimated price, but it will vary greatly depending on the characteristics of your event, such as the number of butterflies, the size of the event, the dates and demand…
Therefore, the best thing to do is to contact us and consult with us so that we can give you a fixed price based on what you are looking for.
Perfect organization, always guaranteed
Yes, we take care of finding the best option for your butterfly release at your wedding or proposal, as we always ensure their well-being.
We want everything to be perfect, that's why we are part of your wedding or proposal, organizing everything in advance and coordinating everything on the day.
We are attentive to every detail! We will prepare everything to your liking, you just have to ask us for everything that is essential for your day, and your wishes will be our commands!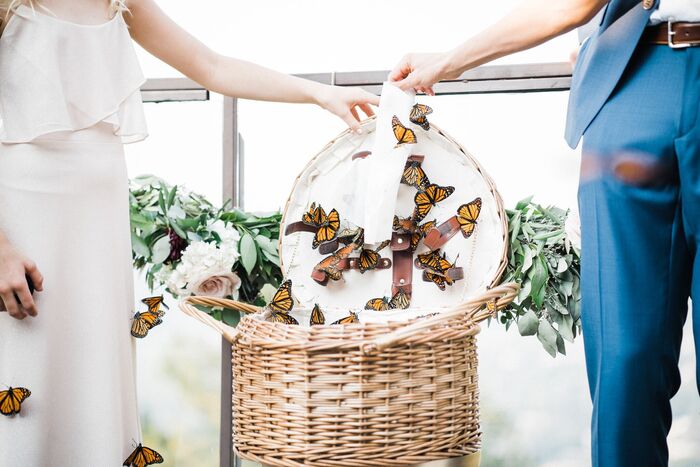 Ease of payment and reservation
Yes! You don't have to pay the full amount for the butterfly release service at your wedding or engagement party right away. You just need to make a reservation with just 50% of the amount and pay the rest on the day of the event.
Convenience for you!
At Perfect Venue, we love celebrations with symbolism and we'll do everything for you. Don't hesitate to contact us! We're already waiting to get started with the preparations for your butterfly release at your special event.